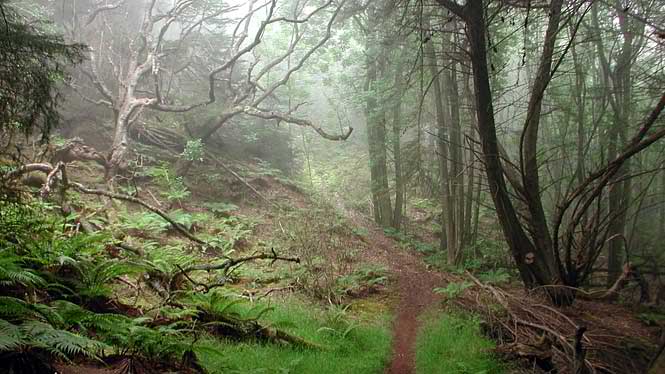 Located on Maui's tallest mountain range, particularly the western slopes of Haleakala, the Polipoli Spring State Recreation Area offers a totally different experience to visitors. With elevation ranging from 5,300–6,200 feet above sea level, the sprawling park, which is part of the 21,000-acre (85 km2) Kula Forest Reserve, is more akin to a Northern Californian conifer forest than a tropical island.
In the 1930s, the area was reforested with hundreds of conifers including Pine (Pinus spp.), Eucalyptus spp., tropical ash (Fraxinus uhdei), cypresses (Cupressaceae), Chinese fir (Cunninghamia lanceolata) and Coast Redwood (Sequoia sempervirens).  These trees magnificent trees now serve as beautiful backdrop of the numerous off-roading trails, hiking trails, camping and picnic areas in the park.
Aside from the scenic views of Central and West Maui, Kahoolawe, Molokai and Lanai during fine weather, other attractions include wild boar, pheasant and goat hunting. Picnic tables and restrooms are available.
Only visitors with permits from the Maui District of Hawaii State Parks can set up tents in the camping area. It can only accommodate 20 persons. Permits can be requested at the Maui District of Hawaii State Parks office at 54 S. High St. #101, Wailuku, HI 96793.
For visitors seeking for a more comfortable accommodations, there is a single cabin that is big enough for ten people. Aside from a bedroom, the cabin has a kitchen, living room and bathroom with shower. Visitors can also use the wood stove, gas hot water heater and gas oven. However, there is no electricity in the park so guests must bring their own flashlights. Candles and lanterns are not allowed. Guests must also bring their own drinking water and bedding. Reservations for the cabin can also be made at the Maui District of Hawaii State Parks office.
Guests should bring appropriate clothing, hats and gloves as temperatures in the park can drop especially during winter. Hikers should also wear bright colored clothing during hunting season to avoid accidents.
Polipoli Spring State Recreation Area can be accessed from Waipoli Road via Kekaulike Avenue using using a four-wheel drive. Other vehicles might not make it because of the very rough roads.