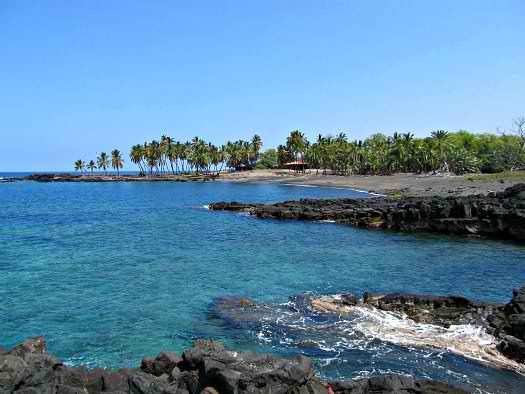 Honomalino Bay, located 30 miles south of Kailua-Kona, is a secluded gray-sand beach on the Big Island's southwestern shore. It features gorgeous clear water, fine gray sand and fringed by coconut palms and kiawe trees
The beach is long and wide, especially at low tide. It is one of the larger beaches in the south Kona area but remains uncrowded because of its remote location. The best time to visit this beach is during weekdays when you can have the entire place to yourself! On weekends, the area can get a bit crowded as locals use it extensively for social gatherings.
Honomalino Bay offers good swimming and snorkeling conditions when the ocean is calm. The beach is fronted by a shallow sandbar, which drops off sharply further out. Pods of dolphins can sometimes be seen hanging around the bay in early mornings.
A blowhole on the south side of the beach is a fascinating attraction during high tide. As waves and ocean surges meet the shoreline, jets of water shoot through a small lava tube with a loud whoosh, shooting a stream of water skyward.
To get to Hanomalino Bay, turn off Highway 11 just south of the 89 mile marker. Look for the Miloli'i sign. Drive slowly as you follow the steep, narrow, winding paved road down to the coast and past the village of Miloli'i until the road ends at Miloli'i Beach Park. From the parking area, a trail with painted signs leads to the beach.  The hike is about 20 minutes and relatively easy with scenic views of lava flows and forested areas. The path passes by some private property, so please be respectful of the neighborhood.