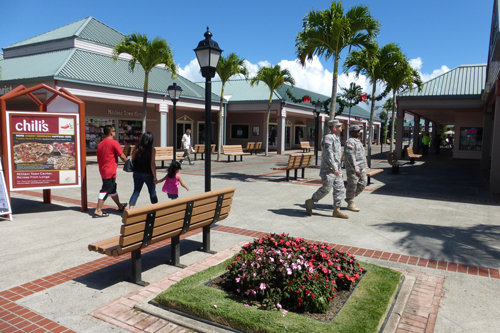 The Town Center of Mililani is an open air shopping mall with over 90 stores and businesses, including national retailers, local specialty stores, restaurants, a 14-plex theater and health care and professional offices. It is located at Meheula Parkway and Lanikuhana Street in the town of Mililani, in Central Oahu. With over 560,000 square feet of commercial space, it is  the fourth largest shopping mall in the state of Hawaii.
It contains anchor stores of Longs Drugs, Times Supermarket and Wal-Mart and shops selling a variety of merchandise and services including apparel (Jeans Warehouse), electronics (Radio Shack; Mobi PCS), health (GNC), beauty salons, banks, book store, real estate companies, fitness centers and numerous medical and dental clinics.
Dining establishments include restaurants, cafes and fast food chains such as Zippy's Restaurant, Taco Bell, Subway, Starbucks, Pizza Hut, KFC, Jamba Juice,  Chilli's, Burger King, baskin Robbins and many others.
The Town Center of Mililani is located in the heart of Mililani, and is convenient to all of the area's retail shopping, restaurants and hotels, parks and community centers.
Save