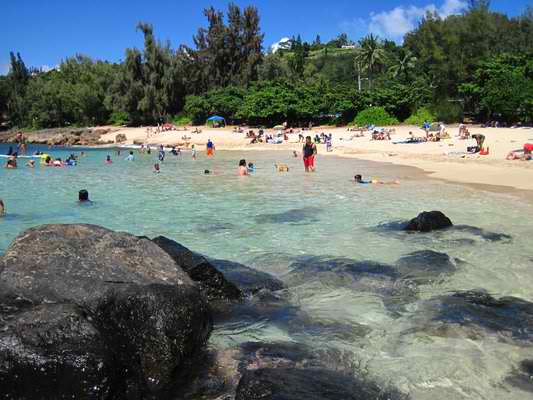 Pupukea Beach Park is an 80-acre beach park on Oahu's North Shore. The area, which features a mix of sand and lava rock formations, encompasses three areas: Shark's Cove to the north, Old Quarry in the center and Three Tables to the south. The name Pupukea means "white shell" in the Hawaiian language.
The waters of the beach park is designated as a Marine Life Conservation District. Apart from picnics and beach combing, the area is a popular swimming, snorkeling and diving spot during summer. In winter, dangerous waves that can reach up to 40-50 feet pound this beach as well as other North Shore coastlines. Swimming and other water activities are discouraged during this period.
During the summer months, Shark's Cove is ideal for snorkeling and scuba diving, when the water is calmer and the spectacular reef system and underwater caverns can easily be explored. Its name refers to the shape of a reef outside the cove which looks like a shark when viewed from above. Entering the water in not easy though as you have to climb down a steep dirt path and navigate around boulders that line the shore.
On the southern end of Pupukea Beach Park is the Three Tables, another excellent diving area. Its name refers to the three flat reefs that lie off the beach.
In between both beaches is the Old Quarry, a beachcomber's paradise featuring tide pools and breathtaking natural lava formations that look as if they were sculpted by human hands.
Being a marine preserve, be warned that there are strict rules about taking any shells, coral, and other marine creatures at Pupukea Beach Park.
The beach park is located along Kamehameha Highway on Oahu's North Shore, Hawaii.
Save