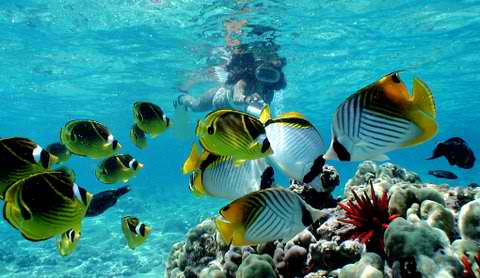 If you want amazing experiences then you should consider visiting Hawaii. Hawaii is the epitome of a tropical paradise: majestic mountain ranges, lava-spewing volcanoes, lush rainforests, and beautiful beaches. But beneath Hawaii's sun-kissed islands is an underwater Shangri-la, featuring some of the world's most exotic fishes, marine creatures and coral reefs.
Hawaii's over 750 miles of coastline is teeming with diverse reef and marine life that exist nowhere else in the world, easily making the islands home to some of the best snorkeling spots in the world.
Hanauma Bay, Oahu
One of the most popular and crowded snorkeling spots in Hawaii because of its clear, warm and calm waters. It is also very easy to access plus the sights, in both above and under the water, are spectacular.
Colorful fishes and marine creatures abound even in waist deep water, making it a favorite spot for novice snorkelers. More experienced snorkelers can venture into the Witch's Brew, a nerby cove with turbulent waters.
Location: Kalanianaole Highway (Route 72) to Koko Head; turn onto the side road near the top of the point.
Makaha Beach Park, Oahu
Another popular snorkeling site in Oahu, Makaka Beach boasts of clear, aqua blue water with very little current in summer. Aside from abundant Sea life which includes taape, octopuses, various species of eels, green sea turtles, dolphins, and sometimes manta and eagle rays, there are underwater caverns, arches, and tunnels as deep as 40 feet.
Location: 35 miles northwest of Honolulu on Farrington Highway in Makaha.
Molokini Crater, Maui
Molokini is a crescent-shaped island that is a part of a volcanic crater. It can only be reached by a boat. Its clear water offers amazing visibility up to 150 feet deep. More than two hundred different species of fish swim these waters, some found nowhere else on earth. Some companies offer snorkeling tours to Molokini, but book early, as they fill up quickly!
Location: Three miles off the coast of Maui.
Kealakekua Bay, Big Island
Aside from being the location of the Captain Cook Monument, Kealakekua is known as one of the best snorkeling spots in the Big Island. It is actually a marine sanctuary teeming with dolphins and sea turtles.
Location: about 17 miles south of Kona on Highway 11.
Kee Beach Park, Kauai
While the majestic cliffs of Kauai's Na Pali Coast provide a spectacular view on land, Kee Beach's under water paradise offers snorklers a wide variety of colorful fish varieties and very often, Pacific green sea turtles. Kee Beach's backshore is lush with ironwood trees, coconut palms, ti, and guava, creating an inviting spot for picnics and relaxation.
Location: At the very end of the road (Route 560) on Kauai's North Shore.
Kapalua Bay, Maui
A protected sandy beach with excellent snorkeling on the north side. The calm waters of Kapalua Bay are good for beginners.
Location: On Hwy. 30, at the Napili Plaza, turn toward the ocean on Napilihau Street. When Napilihau Street T's at Lower Honoapiilani Road, turn right. Drive almost a mile to Napili Kai Beach Club and turn toward the ocean at the "Shoreline Access" sign.
Anini Beach, Kauai
Anini Beach boast of the largest reef on Kauai. The water is very shallow in parts, allowing visitors to easily explore underwater nooks and crannies at the reef's edge. Anini is ideal for beginners, but caution is advised during outgoing tides, which can be strong.
Location: Take Kuhio Highway (Route 56) north to the northern (and second) Kalihiwai Road. Turn right and then stay to the left on Anini Road.
Kapiolani Park Beach, Oahu
The best spot for snorkeling here is the center of the Kapiolani beach park, in a section called Queen's Beach or Queen's Surf Beach, between the Natatorium and the Waikiki Aquarium. The reef in front of the aquarium has easy access to the beach and the waters are usually calm.
Location: Waikiki, near Diamond Head