The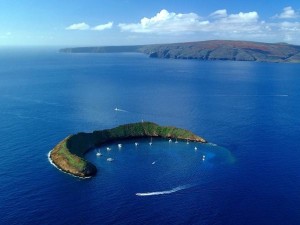 Molokini Crater is one of the top 10 dive spots in the world. It is a crescent-shaped, partially submerged volcanic crater which forms a small islet located in Alalakeiki Channel between the islands of Maui and Kahoʻolawe, part of Maui County. It has a diameter of about 0.4 miles (0.6 km), and is located about 2.5 miles (4.0 km) west of Makena State Park and south of Maʻalaea Bay.
Its popularity as a tourist destination for scuba diving, snuba and snorkeling prompted the Hawaii State Division of Boating and Recreation to establish mooring buoys and "Day Use Mooring Rules" for the islet to avoid over-crowding and protect the reef against damage from dropped anchors.
Molokini islet itself is federally owned and is a state seabird sanctuary. Thus unauthorized landing is prohibited. Permission to land must be obtained both from the U.S. Coast Guard and the Hawaii Division of Forestry and Wildlife.
Regulations covering the Molokini Shoal MLCD prohibit fishing, collection or removal of specimens, and fish feeding within its bounds. Additionally, dropping anchor within the MLCD is not permitted due to the potential of damage to the coral reef. Tour boat operators have been allocated fixed mooring points instead.