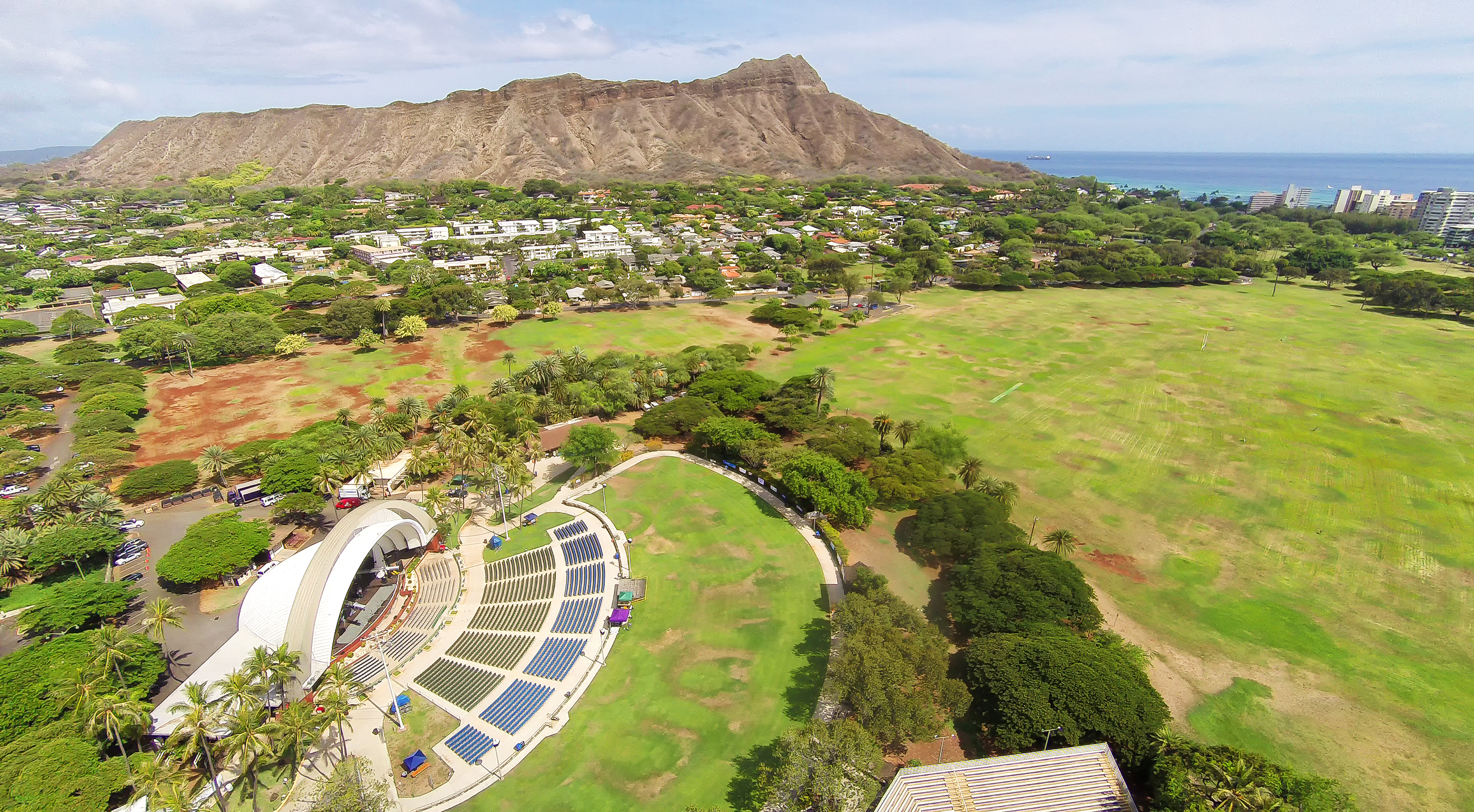 The 300-acre Kapiolani Park (also known as Kapiolani Regional Park and Queen Kapiolani Park) in Honolulu is dubbed as the largest and oldest public park in Hawaii. It sits on the east end of Waikiki's residential area. The park was named after Queen Kapiolani, the queen consort of King David Kalakaua who dedicated the land in her name after her death.
The park is home to the Waikiki Shell amphitheater and the Honolulu Zoo. To its south is Kapiolani Beach Park, adjacent to Kuhio and Waikiki beaches. Nearby is the dormant tuff cone volcano, Diamond Head, adding to the beautiful views in the park. Another tourist attraction in the area is the Waikiki Aquarium.
Triangular in shape and bordered by Kalakaua, Monsarrat, and Paki Avenues, the Kapiolani Park features verdant and sprawling lawns where families can have picnics and young kids can run around. There are also sports facilities including tennis courts, an archery range, and fields for soccer, baseball, lacrosse, and rugby. Its 3-mile jogger's track is part of the Honolulu Marathon Course. On Sundays, the Royal Hawaiian Band holds free concerts at the Kapiolani Bandstand.
The park is also a favorite venue for special events, fairs, art festivals, farmers' markets, and cultural shows. There are lots of trees in the park including palms, ironwood, and ancient-looking Banyans which provide shade and perfect spots for relaxation. Some of these trees date back more than 100 years and were believed to have been planted by King Kalakaua himself. There are also tranquil lilyponds and fountains.
The park is open to the public for free every day, from 5 am to 12 am.
Kapiolani Park, Hawaii Photos