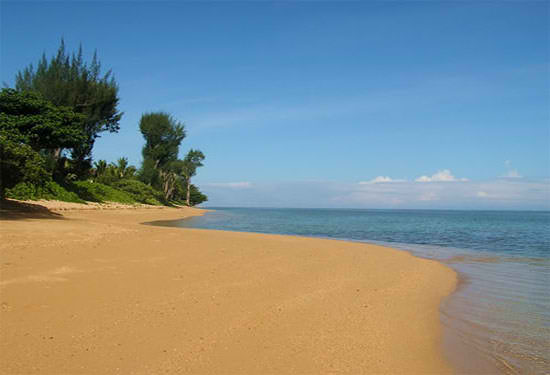 Anini Beach, which means stunted in Hawaii, is a 3-mile-long (4.8 km) beach on the north shore of Kauai, Hawaii  It is sheltered by a large coral reef that rings the island. The reef provides protection from waves, creating a calm blue lagoon perfect for swimming, snorkeling and diving. The tranquil waters, teeming with marine life such as humuhumunukunukuapuaa (triggerfish), uhu (parrot fish), kala (unicorn fish), boxer fish, damselfish and other tropical fishes, makes it an ideal beach for families with small kids. However, there are sharp corals in some areas, so take caution when wading in.
Beyond the protective reef is a windsurfing mecca. The beach's consistent breeze attracts both local and foreign visitors for wind-based activities such as windsurfing, kite boarding, kite surfing and sail boarding. For neophytes, there are kite surfing and sail boarding schools, as well as equipment rental shops, nearby.
Facilities at Anini Beach include restrooms, showers, tables and barbecue pits. Overnight camping may require a permit from the County.
Accommodations when visiting Anini Beach is never a problem as there are numerous Bed & Breakfasts and vacation rentals around the area. For those looking for luxury accommodations, expensive homes on the bluff above the beach may be available for rent.
The beach is practically deserted on weekdays but if you are lucky, you might bump into some Hollywood big names while beach-combing for sea shells. Rumor has it that some of the beautiful homes in Anini are owned by the rich and the famous. One particular mansion has become a landmark as it was used for the filming of Honeymoon in Vegas in 1992.
How to get to Anini Beach:
From Kilauea town, follow the road to Kalihiwai Bridge. Take a right off Route 56 to Kalihiwai Road. Go left on Anini Road. Follow the approximately half-mile track to the beach.
Anini Beach Photo Gallery