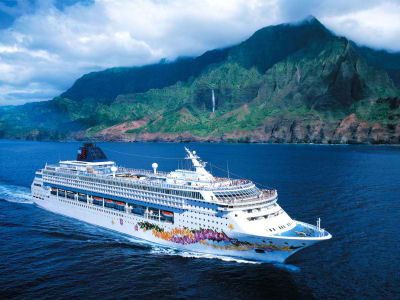 Hawaii is truly a unique tourism destination. From active volcanoes, lush rain forests  majestic mountains, spectacular diving spots, post-card perfect beaches, and legendary waves, there is something that will tickle the fancy of any adventure seeker. Add world-class shopping, championship golf courses, luxury accommodations, colorful culture and friendly people and you get a perfect must-visit destination.
Being a string of islands, Hawaii is best explored via cruises to get a taste of everything the Aloha State has to offer. There are six major island to explore, namely, Kauai, Oahu, Molokai, Lanai, Maui and the Big Island. Each island provides unique and exciting sights and activities. The Big Island, for example, offers rugged and natural landscape while Maui is known for its big waves and surfing. Oahu is a popular destination for whale-watching.
There are numerous cruise lines options available to Hawaii such as Carnival Cruise Line, Celebrity Cruises, Norwegian Cruise Line and Royal Caribbean. Each cruise line has its own unique way to make guests experience the beauty and wonders of the islands.
Whether it be riding the waves, getting up close and personal with the islands' rich marine life, tackling nature trails or simply soaking up the sun with a cocktail in hand, each Hawaii cruise vacations offer endless new experiences.