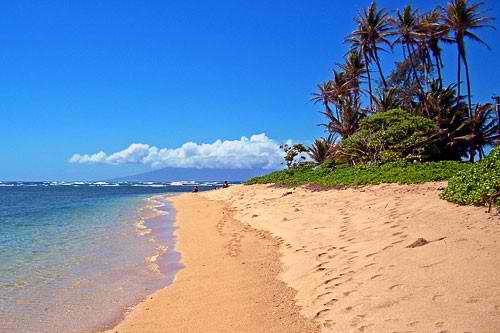 Murphy's Beach Park is one of Molokai's loveliest beaches in the island's eastern shoreline. It is lined with coconut palms and the sand is fine and golden in color. The water is generally calm, courtesy of the offshore reef that provides protection from ocean swells.
The shallow and crystal clear waters is perfect for wading, swimming  and snorkeling when the sea is calm. Among the exotic tropical fishes that you can see here include long-nosed butterfly fish, saddle wrasses, and convict tangs.  However, caution should be taken during times of high surf. Strong ocean currents often flow just outside the reef area so use extreme caution when swimming beyond the reef or just avoid going there altogether.
The beach was originally called Kumimi Beach Park and was part of the Pu'u o Hoku Ranch owned by George Murphy. In the 70's, the Molokai branch of the United States Junior Chamber of Commerce, or JAYCEES, with Murphy's permission, cleaned up the beach and transformed it into a beach park with a good swimming area for the children of Molokai's East End. The organization also built three small pavilions, picnic tables and barbecue grills.
The beach park was then officially renamed to George Murphy Beach Park or Murphy Beach for short. Sometimes, it is also called Jaycees Park while some old-timers still refer to it as the Kumimi Beach. And because it is located at Mile Marker 20 along Highway 450, it's also called the 20 Mile Beach. But whatever name you prefer to call it, this beach is a must-visit when you are in Molokai.
Apart from the picnic tables and barbeque grills, there are no other facilities in this beach park. No lifeguards are on duty so always be cautious when entering the waters.
To get to Murphy's Beach, follow Highway 450 east toward Halawa Valley and at Mile Marker 20 you will see a road sign with "Mile Marker 20 Beach" written on it.