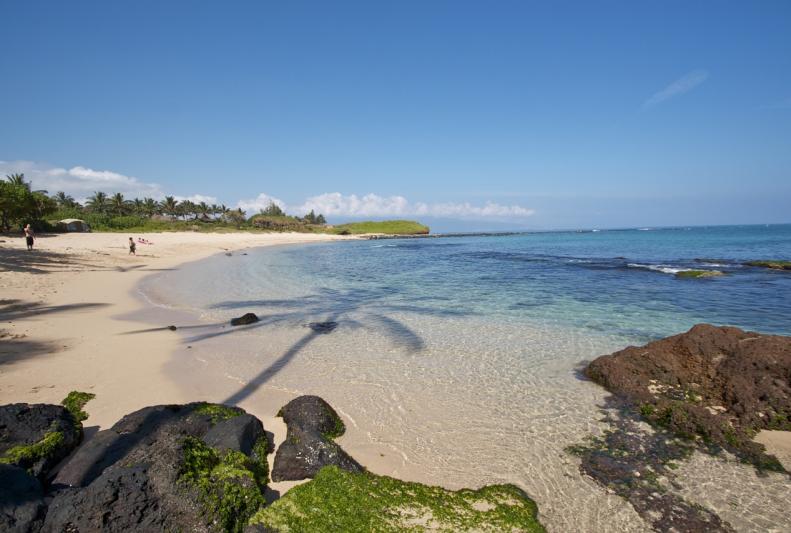 Tavares Beach is a 100-yard-long, crescent shaped white sand beach located just outside of Paia, in Maui, Hawaii. It is known by other names such as Ku'au Bay, Lamalani Cove and Blue Tile House Beach.
This small beach offers spectacular views, soft sand, and gentle near-shore surf, making it popular destination among families with small children. A reef offshore protects the beach from high surf and strong waves. At low tide, there's a baby pool protected by near shore reef on the right end of the beach , and it is a perfect place to let kids play in the ocean, while staying close.
There is a rocky reef in the center of the beach close to shore so be careful when venturing into the water. Better yet, enter by the ends of the beach.
Tavares Beach is less crowded than other beaches in Paia but can be quite busy during weekends as locals troop to the . It is also easily accessible with ample parking. It is also a favorite access point for stand-up paddlers and surfers. There is a surf break to the right (facing the ocean) of the beach further out in the bay.
There are no lifeguards on duty in this beach so monitor water conditions carefully. There can be a rip current at the far left end of the beach during strong winter swells. If in doubt, ask a local or do not go out if you see no one else entering the water.
Apart from a portable rest room, there are no other facilities.
To get there, head east on route 36 (aka Hana Highway) from Paia and drive for 0.6 miles. As you pass the Buddhist temple on the left, the road will rise then fall, the turn is on the left at the bottom of the hill just past the "Ocean access" sign.