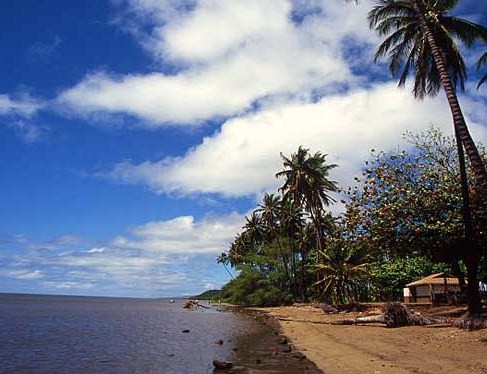 Kiowea Beach Park is a narrow beach located on Molokai's southern coast. It lies between the towns of Kaunakakai and Kalamalua, near the popular Kapuaiwa Coconut Grove. The historic grove is named in honor of the high chief Kapuaiwa, who in 1863 became King Kamehameha V. It is said that the Hawaiian monarch himself planted some of the coconuts in this site.
Unfortunately, this beach park leaves a lot to be desired when it comes to swimming and other water activities. The ocean bottom is rocky and can be very murky because of silt. Nevertheless, it's a great spot for a barbeques and picnics with excellent views of the Kapuaiwa Coconut Grove. Sunsets in this beach are also breathtaking. This park is worth a visit if only to marvel at the leaning coconuts trees juxtaposed against the setting sun.
Facilities include restrooms, shelter picnic areas, picnic tables, barbecue grills. There are no lifeguards on duty.
To get there, follow Hwy. 460 west from Kaunakakai and you will see Kiowea Beach about one mile down on the left just before the famous coconut grove.
Save