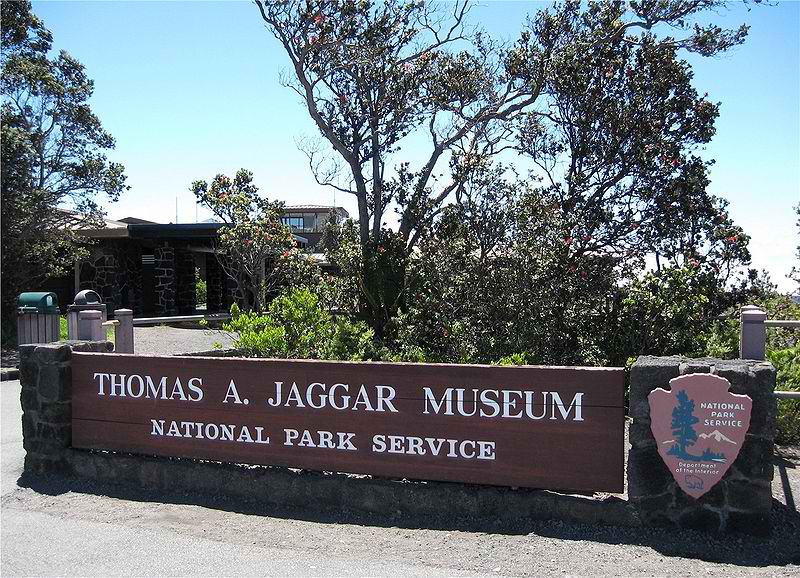 The Jaggar Museum, more formally referred to as the Thomas A. Jaggar Museum, is an educational facility about volcanology featuring operational seismographs and other modern electronic equipment which monitor volcanic activity and earthquakes within the islands. It also displays old equipment used to study volcanic activity in the past, as well as, clothing and gear from scientists who got a bit too close to molten lava while on duty.
The museum was built in 1986 and was named in honor of Thomas A. Jaggar, a prominent American geologist who moved to Kilauea in 1912 to dedicate his life to studying volcanoes. It is located on highest section of Kilauea Caldera's rim at the Hawaii Volcanoes National Park, offering a sheltered view of the Kīlauea and Halema'uma'u Crater. There is also a public observation deck overlooking Kīlauea which is one of the most popular destination within the park.
Facilities include restrooms and a gift shop selling books, videos, cds, maps, and other special items about Hawaii's volcanos.
The museum is accessible via Crater Rim Drive, Hawaii Volcanoes National Park, Big Island of Hawaii. It is open daily until 8pm which offers best views of the Halema'uma'u lava lake at night.