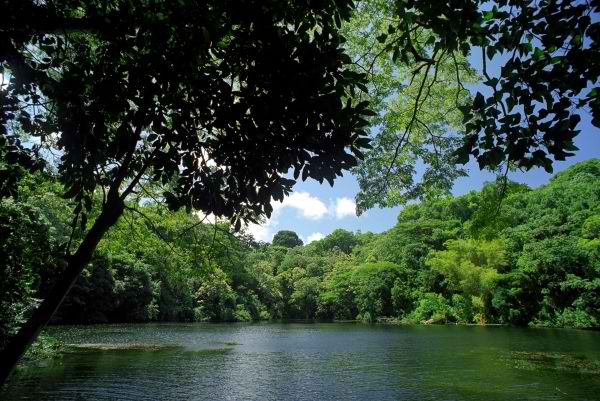 Green Lake, locally known as Ka Wai a Pele, may not be among Hawaii's most popular tourist destinations but it is one of the most scenic natural spots on the Big Island. Sitting in the center of a lush rainforest, the lake is actually a 400-year-old, freshwater-filled crater several hundred feet deep.  It is the largest of only two fresh water lakes on the Big Island.
The lake is just over one mile from the Pacific Ocean and 25 miles from the active Kilauea volcano. Vegetation surrounding the lake-shore includes kukui nut trees, guava trees, banana and other native plants. When you arrive at the water's edge, you are only three feet above sea level!
The towering walls of the crater make the lake seem bottomless. Boats or rafts can be used to explore the lake. Swimming is allowed, except for seasons when the surface is mostly covered with aquatic plants.
Green Lake is situated in idyllic Kapoho which became a ghost town when lava flow destroyed the entire area after the eruption of Kilauea in 1960. Except for the lighthouse at Cape Kumukahi, all structures were destroyed and buried under molten lava. Kapoho was never resettled.
Other nearby attractions include the Green Mountain which offers spectacular  coastal views and the Kapoho Tide Pools, some of which are volcanically heated.
On June 2, 2018, the beautiful lake was wiped out after lava flowed into the area, filled the lake and evaporated all its water during Kilauea Volcano's eruptive episodes which started in May of the same year.