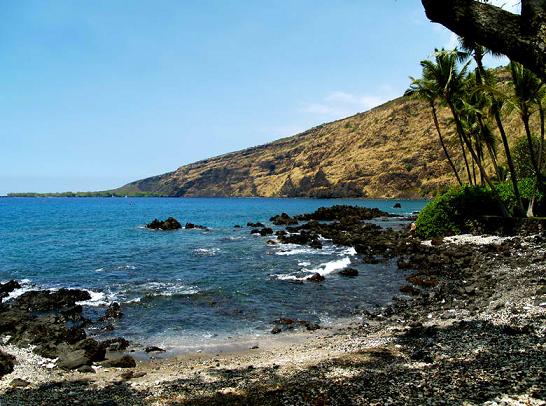 Napoopoo Beach Park is a popular and historically significant park located at the southern end of Kealakekua Bay on the Big Island's west shore. It was the site where Captain James Cook first set foot on the Big Island of Hawaii on January 17, 1779. Native Hawaiians initially thought that Cook was the powerful deity  Lonokamakahiki, the god of agriculture and fertility of the land.
Just across the bay is a 27-foot white obelisk which marks the spot where cook was eventually killed after a skirmish with the Hawaiians. The monument is visible from the Napoopoo Beach Park.
An ancient Hawaiian temple site, Hiki'au Heiau, is also located in the beach park. It is accessible via a trail located behind the beach. The temple was dedicated to Lonokamakahiki.
The beach park has a very rocky shoreline with only a sliver of sandy beach.  Nevertheless, it is surrounded by high green cliffs and picturesque views making the area ideal for picnics and relaxation. Numerous trees provide shade.
The calm and clear waters offer superb swimming, snorkeling, and diving conditions. Its rich marine life includes colorful reef fish, corals, green sea turtles and even dolphins.
Park facilities include picnic tables, barbeque grills, showers and toilets. From Kailua-Kona, take Highway 11 south. At Captain Cook (near Kealakekua Bay), turn right onto State Highway 160 (Napo'opo'o Road) and follow it to the end.