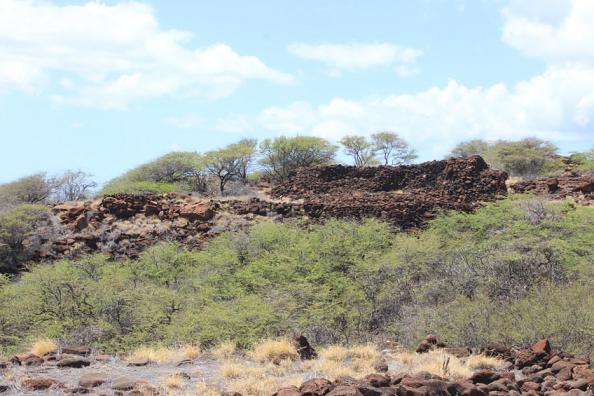 The Kaunolu Village, also known as Kaunolu Archaeological Interpretive Park, was once an important fishing village located on cliffs above the Kaunolu Bay, on the southern coast of Lanai Island in Hawaii. The 640-acre park contains preserved petroglyphs, grave sites, a temple called Halulu Heiau and remains of house platforms, including one owned by King Kamehameha I. Between the village and the ocean is a 90-foot cliff known as Kahekili's Leap, which was used by warriors to dive into the sea below to prove their courage and loyalty.
The site is considered as the largest known example of a historic Hawaiian village and has been designated by the United States government as a National Historic Landmark in 1962 and added to the National Register of Historic Places in 1966.
It is said that this village became a favorite summer residence of King Kamehameha I after conquering Lanai in the early 1800s, where he enjoyed fishing. He also rebuilt the heau where he held ceremonies and rituals.
The village has been uninhabited since about 1900 and is now an interpretive park, meaning signs with information about what the village was like in the past are posted along a trail to guide visitors.
Apart from its historical significance, Kaunolu Village is also a sacred ground and visitors are not permitted to walk on the stone walls, or to move or remove any of the stones anywhere on the site.
Save