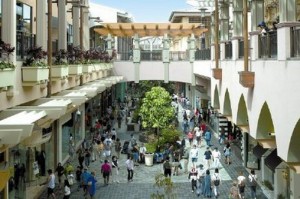 Ala Moana Center in 1450 Ala Moana Boulevard, Honolulu is the largest shopping mall in Hawaii.  It is the fifteenth largest shopping mall in the United States, and the largest open-air shopping center in the world.
The mall is part of the commercial, retail, and residential district of Ala Moana, south of Makiki, east of Kakaʻako, west of Waikīkī and across from Ala Moana Beach Park. Over 56 million people visit Ala Moana Center annually.
Most of Ala Moana Center's stores target the tourist economy on which it so heavily relies. However, there are still some shops which offer products to local residents.
There are close to 300 shops and restaurants in the center, including boutique stores of leading international fashion brands. Its current anchor tenants are Macy's, Neiman Marcus, Sears, and Nordstrom. Ala Moana Center also boats of one of the world's largest food courts, featuring cuisines from around the globe. Designer stores, such as Bulgari, Prada, Dior, Fendi, Louis Vuitton, Gucci, Chanel, Hermès, and the like have heavily influenced the atmosphere of Ala Moana, reportedly making it a hotspot for visitors looking for high-end merchandise.