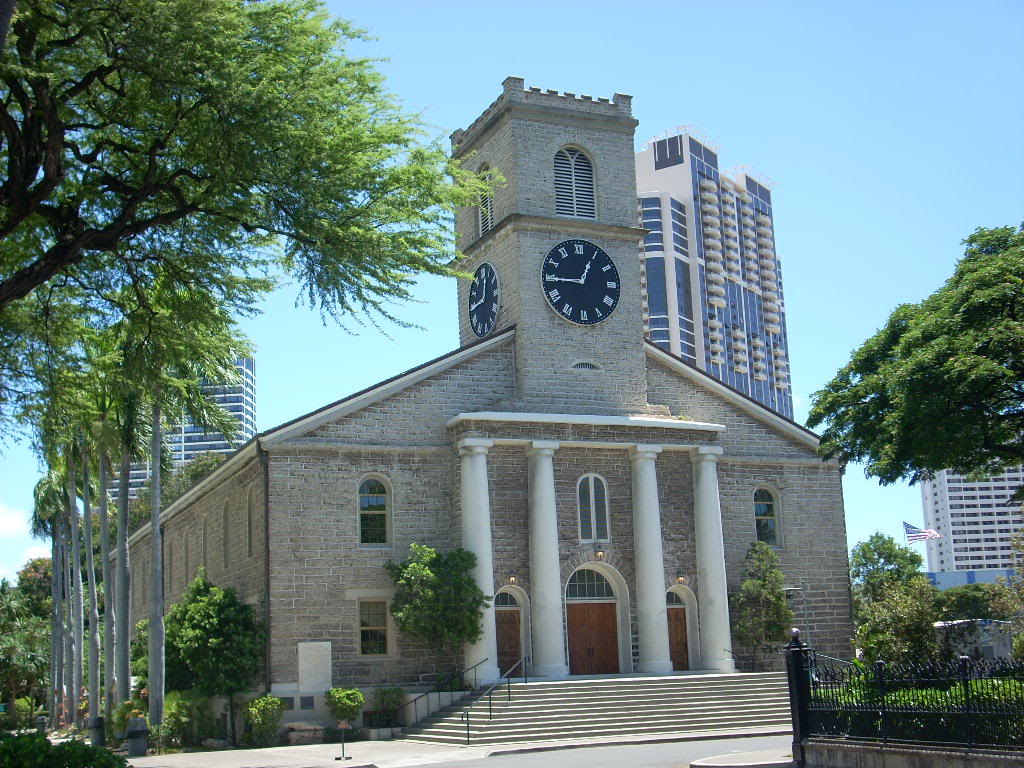 Kawaiaha'o Church is a historic Congregational church located in Downtown Honolulu in Oahu, Hawaii. It was constructed between 1836 and 1842 under the supervision of Kamehameha III from the design made by Rev. Hiram Bingham.
It was the first Christian Church built on the island and at some time became the official place of worship of the Kamehameha Dynasty and Kalākaua Dynasty during their reigns. The church was the site of royal coronations, christenings and funerals, hence the title, Westminster Abbey of Hawaii.
The Kawaiaha'o Church, along with the associated Mission Houses, was designated as a U.S. National Historic Landmark (NHL) in 1962. It was included in the first issuance of the National Register of Historic Places in 1966.
The church features a New England style architecture and used some 14,000 thousand-pound slabs of coral rock during construction. The rocks were quarried from an offshore reef on the southern coast of Oahu. Hawaiian divers with hand tools dived 3 to 6 metres below sea-level to chisel out each coral block, which was then transported from the reef onto shore by canoes. Timber from nearby forests were used for the beams.
Some of the church's distinct features are the bell tower and colonial colonnade. The Kauikeaouli Clock, donated by King Kamehameha III in 1850, still tolls every hour to this day. More than 20 portraits of Hawaiian royalty adorn the church's upper gallery.
Also located in the church grounds is the mausoleum of King Lunalilo, the first elected monarch of Hawaii, who wished to be buried "among his people" at Kawaiahao Church rather than in the Royal Mausoleum.
To the left of the church is the Kawaiahao Fountain, believed to be the sacred spring where the High Chieftess Hao bathed. The name of the church, Ka Wai a Hao, or "the water of Hao", was derived from this spring.
Kawaiahao Church still serves as a center of worship for Hawaii's people, with services conducted every Sunday in Hawaiian and English. The church is located at 957 Punchbowl Street and 553 S. King Street in downtown Honolulu.