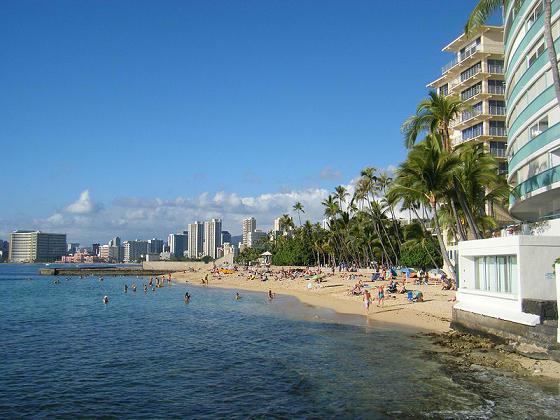 Sans Souci Beach is a popular swimming and snorkeling area at the eastern end of Waikiki in Oahu, Hawaii. The sandy beach is lined with palms and the water is generally calm, protected by a coral reef against ocean swells. The ideal water conditions makes the beach a favorite recreational destination among residents of Honolulu and the surrounding communities of Kaimuki, Manoa and Diamond Head.
The area was formerly known as Kaimana Beach but was renamed to Sans Souci Beach (French for "without worries"), after the quaint Sans Souci hotel which was built by Greek American businessman George Lycurgus in 1893. The New Otani Kaimana Beach Hotel now stands on the site of Lycurgus' hotel.
Apart from swimming and snorkeling, Sans Souci Beach is also a well-known surfing spot during swells. The famous surfing spot called Castles is located off this beach.
Beach facilities include lifeguards, restrooms, showers and food concessions on the beach and along Kalakaua Avenue.
San Souci Beach is located near the New Otani Kaimana Beach Hotel in Waikiki and adjacent to the Waikiki Natatorium War Memorial, a memorial in the form of a 100 meter by 40 meter salt water public swimming pool, dedicated "the men and women who served during the great war [World War I]."
Other nearby tourist attractions are the Waikiki Beach and the Kapiolani Park.
The beach is also historically significant as the first submarine cable from California to Hawaii was brought ashore here. Duke Kahanamoku's uncle, David Piikoi Kahanamoku, was said to have been the person who dragged the underwater cable through Kapua Channel and onto Kaimana's shore in 1902. The first telegraphic message over this new cable was sent on January 1, 1903, from Henry Ernest Cooper to President Theodore Roosevelt in Washington, DC.
Sans Souci Beach - Oahu, Hawaii Photos