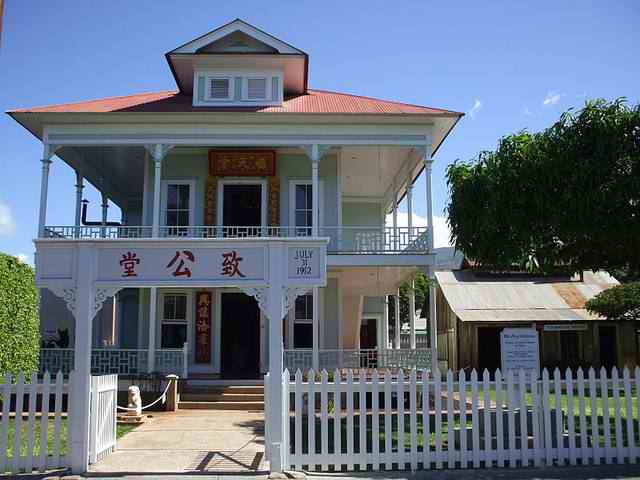 Wo Hing Society Building, also called Wo Hing Temple Museum, is a historical landmark located at 858 Front Street in Lahaina, Maui, Hawaii. It was constructed in 1912 by early Chinese migrants in Lahaina who were brought to the island as sugar cane plantation workers. It is one of only two existing Chinese Society Halls on Maui, the other is the Ket Hing Society Hall in Kula.
In 1909 the Chinese community in Lahaina formed the Wo Hing Society, a branch of the Chee Kung Tong, a fraternal society with chapters throughout the world. Funded by private donations, the society build the two-story structure to serve as a place of worship and social hall for the district's growing Chinese population.
By the 1940's, the Chinese population in Lahaina declined as they moved to the island of Oahu for better business opportunities. As a result, the building fell into disrepair because the few remaining Wo Hing Society members in Lahaina could not afford its upkeep. The building was eventually boarded up.
It was placed on the Hawaii State Register of Historic Places on July 30, 1982, and, as Wo Hing Society Building, was listed on the placed on the National Register of Historic Places on November 15, 1982. This prompted the Lahaina Restoration Foundation to take steps for its restoration.
Under a long-term agreement with the Wo Hing Society, the foundation provided funds and manpower to restore the historical structure. At present, Wo Hing Society Hall operates as a museum showcasing the Chinese community's lifestyle and culture during their early years in Lahaina.
The Wo Hing Society Buiding is comprised of a two-story main building and a cookhouse to the side. The first floor houses a collection of Chinese artifacts and memorabilia of Lahaina around the start of the 20th century. Wo (harmony) and Hing (prosperity) rendered in calligraphy can be seen throughout the property.
The second floor features the only public Taoist altar on Maui, where altars to Guan Ti and other Chinese deities and a selection of Chinese artifacts are located.
The cookhouse was a separate structure, created as a precaution to prevent the risk of fire damage to the main building. Today, along with displaying numerous cooking artifacts, the cookhouse was converted into a mini theater screening  films of Hawaii taken by Thomas Edison in 1898 and 1906.
The museum is open daily, from 10am to 4pm; 1pm to 8pm on Fridays. Admission fee is $2.00, children under 12 years old are free of charge.