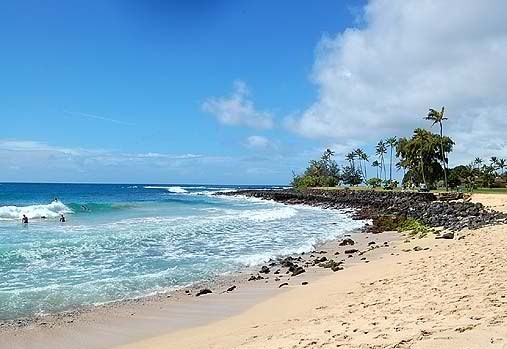 Brennecke Beach is a small cove on Kauai's south shore, located next to Poipu Beach. This beach is a popular bodyboarding destination due to its consistent waves ideal for both advanced bodyboarders. Those just beggining to take the sport should take caution when riding the waves as surf can get really rough.
Surfing is not allowed at this beach, giving bodyboarders a monopoly of the waves at this relatively small beach. The ocean bed is mostly sand and not sharp rock, making this beach a lot safer for such water sports than other beaches in the area.
It is also ideal for snorkeling during calmer water conditions. Brennecke Beach is also popular for the sea turtles that frequent this area. You can watch they while on the beach or swim among them.
Beach facilities include toilets and showers. There is a nearbyrestaurant selling lunch, snacks, dinner and refreshments.
Brennecke Beach is located at Hoone Road, Poipu. To get there, make a turn onto Hoowili Road from Poipu Road. When you reached a T intersection, make a left turn onto Hoone Road. There is a small parking area near the beach.