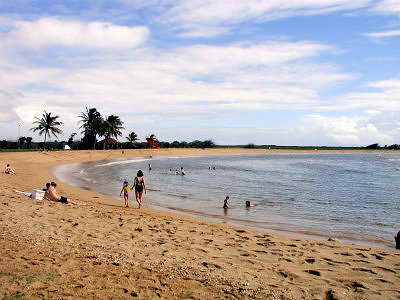 Salt Pond Beach Park, in Hanapepe, West Kauai, is known among locals for its yellow sand and calm clear waters. Because it's out of the way from more popular destinations such as Kapaa, Lihue and Poipu, this beach is less crowded.
The strong breeze makes it ideal for windsurfing while the protected reef is great for swimming and snorkeling. There are also tide pools teeming with marine creatures such as small fishes, crabs and sea urchins, a real teat for the young ones.
But those are not only the animals in this quaint and quiet beach. If you are lucky, you can catch some monk seals napping on the beach's sandy shore. These creatures are endangered so don't disturb them and just observe from a distance. Dolphins are also said to frequent the beach's calm waters. On land, expect to see some feral cats and chickens who have decided to call Salt Pond Beach Park home.
Another attraction in this beach is the natural salt pond in the vicinity, hence the name of the park. The salt pond is believed to have been used by ancient Hawaiians to harvest salt. While it is not prohibited to see and observe the salt ponds, visitors are not not supposed to touch the ponds without permission. Only native Hawaiians are allowed to harvest the salt.
Beach facilities include camping grounds (visitors should have permits before setting camp), picnic tables, covered pavilions, restrooms, showers and barbecue grills. There are also lifeguards on duty.
To reach Salt Pond Beach take Highway 50 west from Kalaheo toward Hanapepe. Just drive past mile marker 17, turn left on Lele and right on Lokokai Road to the beach park.