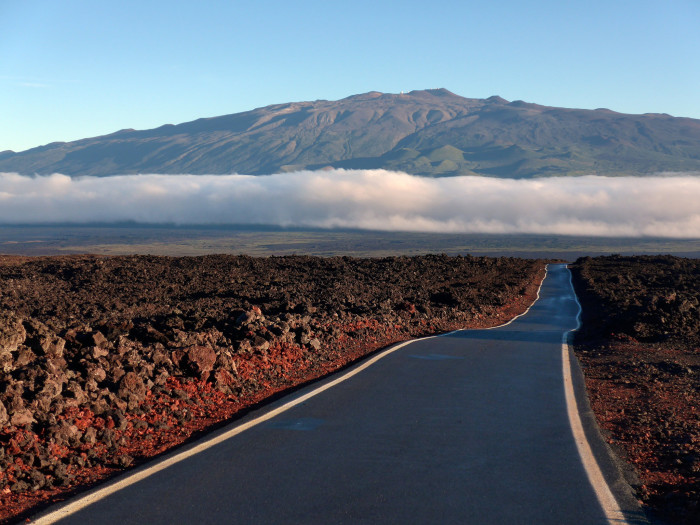 Saddle Road, also known as State Route 200, is a 54-mile stretch of road which connects the east and west sides of the Big Island of Hawaii.  It lies between the "saddle" of two of Hawaii's largest mountains, Mauna Kea and Mauna Loa. The road was constructed in 1942 by the Department of the Army to provide access to the largest military training facility in the state, the Bradshaw Army Airfield. It also offers the shortest route to travel from one side of the island to the other at just a little over an hour and half.
The thoroughfare started out as a one-lane rough road which was widened and paved over the years.  However, the below par improvements and poor maintenance made Saddle Road one of the most dangerous highways in the state because it had many rough areas including nasty curves and risky rises. In fact, there are several small crosses along the road that are believed to serve as memorials for the people who have died while traversing the infamous road.  For a time, many car rental companies also forbid use of their cars on Saddle Road due to its bad condition.
The Federal Highway Administration, Central Federal Lands Highway Division (FHWA) and the Hawaii Department of Transportation (HDOT) have since joined hands in improving Saddle Road which has now become a popular route especially among the adventurous. The road offers diverse scenic landscapes such as dried lava flows, rolling grasslands, desert-like fields and lush rainforests. Apart from access to the slopes of Mauna Loa and the observatories atop Mauna Kea, there are also trailheads that lead to several hiking trails.
Most car rental companies have now lifted the ban on traversing this roadway. However, there are still portions that are deemed dangerous and need improvement (particularly in the western part).  As with any other highway, it is recommended to drive along Saddle Road with care and caution. Also be reminded that there are no roadside facilities, so make sure that your vehicle is in good condition and have suffient fuel when traveling this route. Otherwise, be ready to walk a long way in case your vehicle breaks down or ran out of gas. The road is also notorious for fog and low visibility so avoid driving here at night.
Save
Save
Save
Save
Save
Save