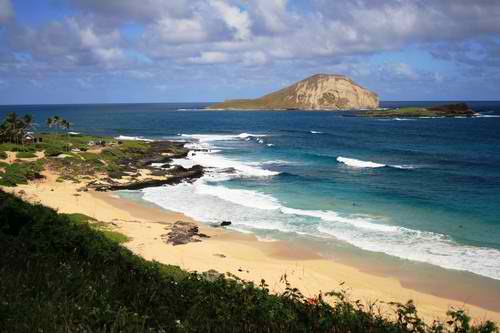 Rabbit Island, also known as Manana Island, is an uninhabited islet less than a mile off of Kaupo Beach, just northwest of Makapuu Point in Oahu, Hawaii.  It is a volcanic tuff cone island, about 2300 feet long and 4200 feet wide with an elevation of about 360 feet at its highest point. On the southwest side of the island is a small sandy beach approximately thirty feet wide.
Many people think that the island's name was in reference to its resemblance to a rabbit's head or body when viewed from various vantage points along Oahu's windward coast. However, the name actually came from the fact that the island used to be inhabited by a rabbit colony.
John Adams Cummins introduced rabbits in Manana in the 1880s when he ran the nearby Waimānalo plantation. In 1994, the rabbits were eradicated because they started destroying the native ecosystem of the island, which is an important seabird breeding area.
The island is a declared State Seabird Sanctuary, a breeding ground to numerous species of seabirds as well as Hawaiian monk seals. The surrounding waters is also known for its rich marine life which includes lobster, triton trumpets, helmet shells, whitetip reef sharks and tiger sharks. These and the spectacular coral formations make the area a popular scuba diving site.
However, diving expeditions should only be done on a boat as it is prohibited to land or set foot on the island (unless with permission from the Hawaii Department of Land Natural Resources) because of its status as a protected bird sanctuary.
Divers are also warned that sharks in the area are extremely territorial and have a history of attacks on humans. Divers are advised to refrain from entering or immediately leave the water if sharks are spotted.
The Rabbit Island can be seen from various locations on Oahu's southeastern shore, including Kaupo Beach, Waimanalo Beach Park and Makapu'u Lookout.