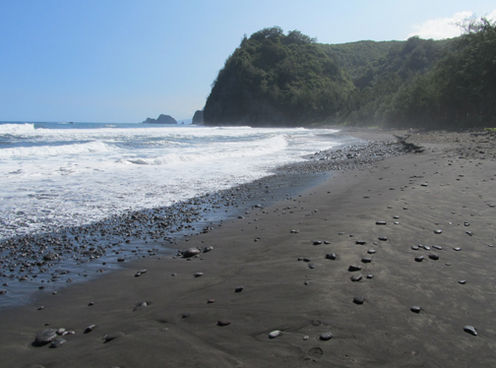 Located in North Kohala, Big Island of Hawaii is one of the finest and secluded black-sand beaches in Hawaii, called Pololu Valley Beach. It can be reached after an eight mile trek along the lush winding road past the quaint towns of Hawi and Kapa'au. At the very end of Highway 270 is the scenic Pololu Valley, the first of five majestic valleys that stretch along the Big Island's coast to the southeast.
The lookout point does not give much of a view of the magnificent black sand beach and beautiful valley below. The best way to enjoy the area is to hike down the four-mile trail to the valley floor 1000 feet below. Quite an ordeal for the uninitiated but truly exhilarating for the adventurous.
The way down to the Pololu Valley Beach is a bit difficult with stiff and rocky paths to contend with. During wet conditions, the trail can be muddy, slippery and dangerous. The climb back up is even more strenuous.
But the beautiful Pololu Valley Beach will be worth the effort once you reached it. It is a wide expanse of fine black sand surrounded by sheer green cliffs and backed by high dunes and pine trees. A gurgling stream leads from the beach to the back of the valley.
The beach is not ideal for swimming because of the dangerous rip currents and rough surf. Nevertheless, locals do swim, body board, and surf here. If you insist on taking a plunge or try to ride the waves, be warned that the beach is in a secluded area and emergency help is not readily available.
Pololu Valley Beach Photo Gallery