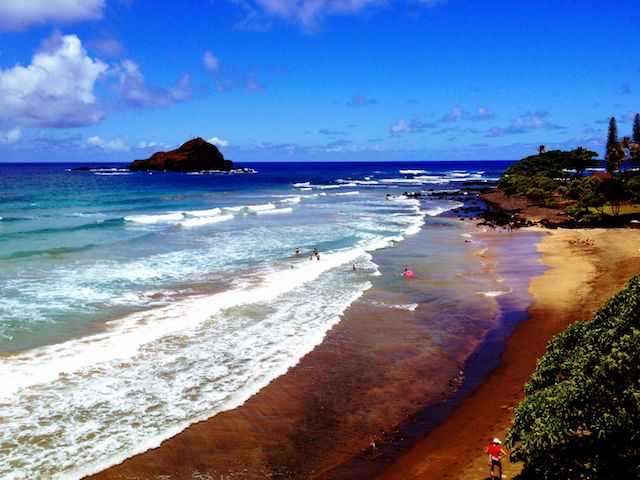 Koki Beach is one of the beaches along the winding road to Hana in the eastern shore of Maui, Hawaii. It is a picturesque small county beach park just south of Hana Town known for its unique red sand. The sand is actually a mixture of red, black and white sand with the red hue coming from the nearby red cinder hill, named Ka Iwi o Pele.
The beach has a small grassy lawn which is perfect for picnics and enjoying the views. Lush ironwood trees surround the beach, providing plenty of shade. Apart from a couple of picnic tables, there are no other facilities in this beach.
Koki Beach is unprotected by any reef making it unsuitable for swimming. Incoming high surf and rip currents can be very strong and can easily suck swimmers out into the ocean. Water can be generally calm in summer months but conditions can change extremely from day to day. During winter months, the surf and currents can be very treacherous and venturing into the water is a bad idea.
Local bodyboarders and experienced surfers who are familiar with the beach come here to surf but is not recommended for novices. There are no lifeguards and many drownings have been reported in this beach so it is advised to be very cautious and check out conditions first before entering the water.
The beach provides a great vantage point for viewing the picturesque Alau Island, which is about a quarter mile offshore. Topped with a few palm trees, the small island is actually a bird sanctuary and was used by ancient Hawaiians as a place for sacred studies.
The red cinder hill on the northern end of the coastline is called Ka Iwi o Pele, which means "The bones of Pele" in Hawaiian. According to legends, this is where the bones of Pele, the goddes of volcanoes, were left after a fatal encounter with her sister. Hikers are advised to keep away from the area as the hill consists of very loose volcanic material that frequently breaks off and falls to the shoreline below.
Koki Beach can be reached via the Hana Road. Turn left into Haneoo Road a little past the mile 51 maker.