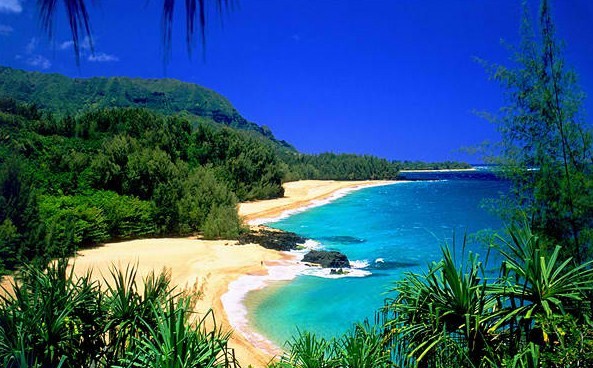 Lumahai Beach is located along Hawaii Route 560 between Hanalei and Ha'ena State Park on the north shore of Kauai, Hawaii. It features a crescent-shapes strip of sand with lush vegetation at the back. It boasts of spectacular ocean and mountains views. Lumahai Beach would have been one of Kauai's most perfect beaches if not for its treacherous waters.
Because of the geography of the area, the Lumahai Beach is considered unsafe for swimming and surfing most of the year due to strong waves, currents and undertow. There are numerous signs that warn visitors to take to the waters at their own risk as the pounding waves can easily cause serious injuries. Newbie surfers are advise to heed the warnings as even experienced surfers are cautious when taking this beach on.
Despite its unwelcoming waters, a visit to this beach is still worth it. The beautiful scenery is a great backdrop while you enjoy a picnic under the shade of some trees, soak in some sun on the soft white sand or simply stroll and explore the hidden treasures along the expansive stretch of sand that is nearly a mile long. This beach was used as one of the locations in the 1958 film South Pacific and we will not be surprised if visitors break into song in celebration of its breathtaking beauty.
If you really want to take a dip, walk your way to the nearby Kahalahala Beach on the eastern portion of Lumahai. Over a small lava outcropping is a little cove that is safer for swimming. However, caution is still advised when swmming in this area and watch out for rogue waves that can sweep you out to sea.
How to get to Lumahai Beach:
Located about 2 miles (3.2 km) past Hanalei on Kauai's north shore. The first (east) section of Lumahai Beach (also known as Kahalahala) is just before mile marker 5. Park at the lookout and walk down the trail that leads to the beach (100 foot down). There are only a few small pullouts next to the highway, so you may not be able to find a parking spot here. To access the larger western section of Lumahai Beach, drive past mile marker 5 and look for the parking area just before the Lumahai River. There is a dirt parking area next to the highway. It is larger than the small pullouts at the other section of Lumahai Beach, but it can still get busy here on weekends or the peak tourist seasons.