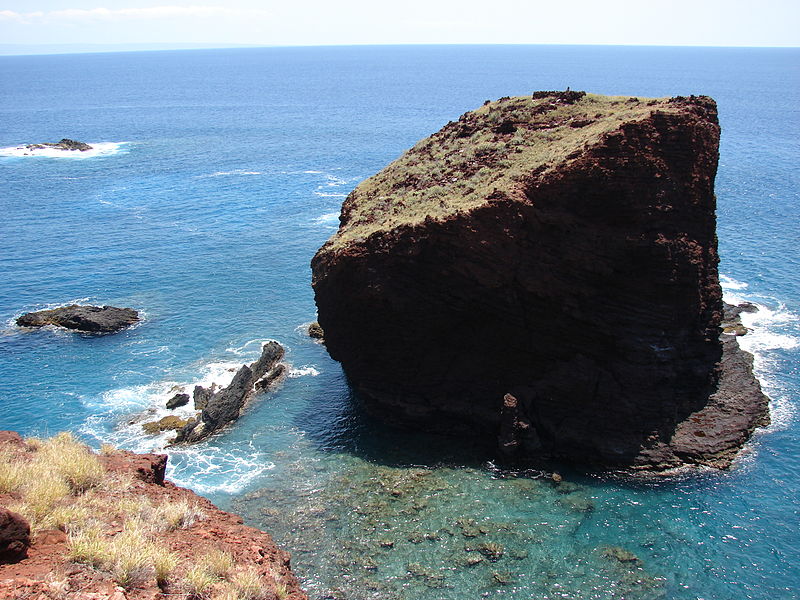 Puu Pehe, also known as the Sweetheart Rock, is an 80-feet tall rock formation between Hulopoe Bay and Manele Bay on the southern coast of Lanai, Hawaii. Apart from adding to the picturesque views of the coastline, the iconic rock is also the setting for one of Hawaii's most enduring folk tales.
According to an ancient Hawaiian legend, a young warrior from Lanai named Makakehau abducted Pehe, a beautiful young princess from Maui, and brought her back to his home island to become his wife. Makakehau was so stricken by Pehe's beauty that he confined her to a sea cave near the rock to keep her away from the eyes of other men.
One day, a storm suddenly brew while Makakehau was gathering supplies away from Pehe's cave. He quickly returned to the cave only to discover the lifeless body of his beloved who was drowned by the surge of the storm waves. The heartbroken warrior took Pehe in his arms and asked the gods to help him climb the steep rock island where he eventually buried her. Stricken with grief, he then jumped from the summit into the pounding surf below.
While there was indeed a tomb-like structure on top of the Puu Pehe, archeologists say that there are no human remains in this "tomb." Instead, they believe that the tomb may actually be a bird heiau constructed by the ancient Hawaiians, as evidenced by the numerous bones from sea birds have been found in the area.
To get to Puu Pehe, take Highway 440 south from Lanai City and follow the signs to Hulopoe Beach Park. A trail from the beach will lead you to a breathtaking overlook of Puu Pehe. A number of tide pools, a sea arch and Sharks Cove are found along the trail.
Photo credit: Forest & Kim Starr
Save