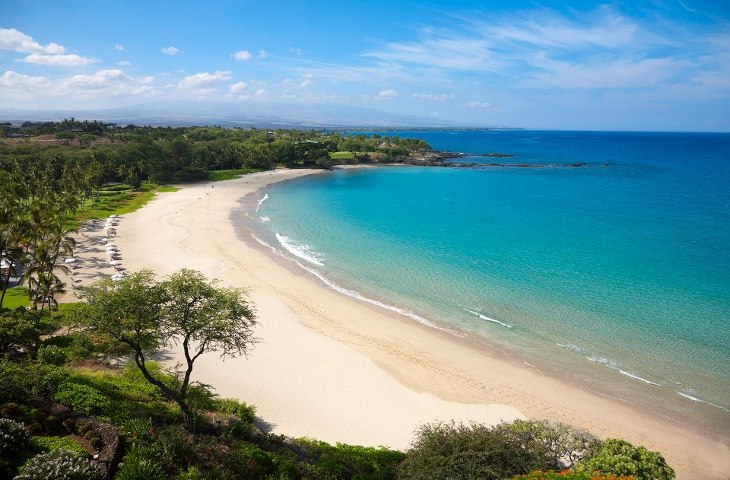 Kaunaoa Beach is a spectacular white sand beach along the Kaunaoa Bay on the Kohala Coast, west side of the Big Island of Hawaii. The crescent-shaped beach is only about one-fourth mile long but is a popular destination because of its fine sand and clear blue waters.
Numerous trees allow shady areas perfect for picnics and relaxation. Apart from swimming and snorkeling when the ocean is calm, the beach is also popular for bodyboarding and bodysurfing when the waves are large. During such water condition, however, inexperienced swimmers and beginner surfers should stay on land to avoid accidents due to dangerous waves and offshore currents.
When the ocean is calm, the rocky outcrop on the left side of the beach provides excellent spot for snorkeling. On clear days, Kaunaoa Beach provides a nice view of the nearly 14,000-foot Mauna Kea Volcano.
Beach facilities include restrooms, showers and a volleyball court. There are no lifeguards on this beach so take caution when venturing into the ocean.
Behind the beach is the historic Mauna Kea Beach Hotel, which was named after the majestic volcano behind it. The hotel is acclaimed for its open-air architecture which allows natural ventilation from the trade winds.
To reach Kaunaoa Beach, follow Hwy. 19 north from Kona and go left at Mile Marker #68. At the end of the road is a parking area and a public access to the beach.
Save