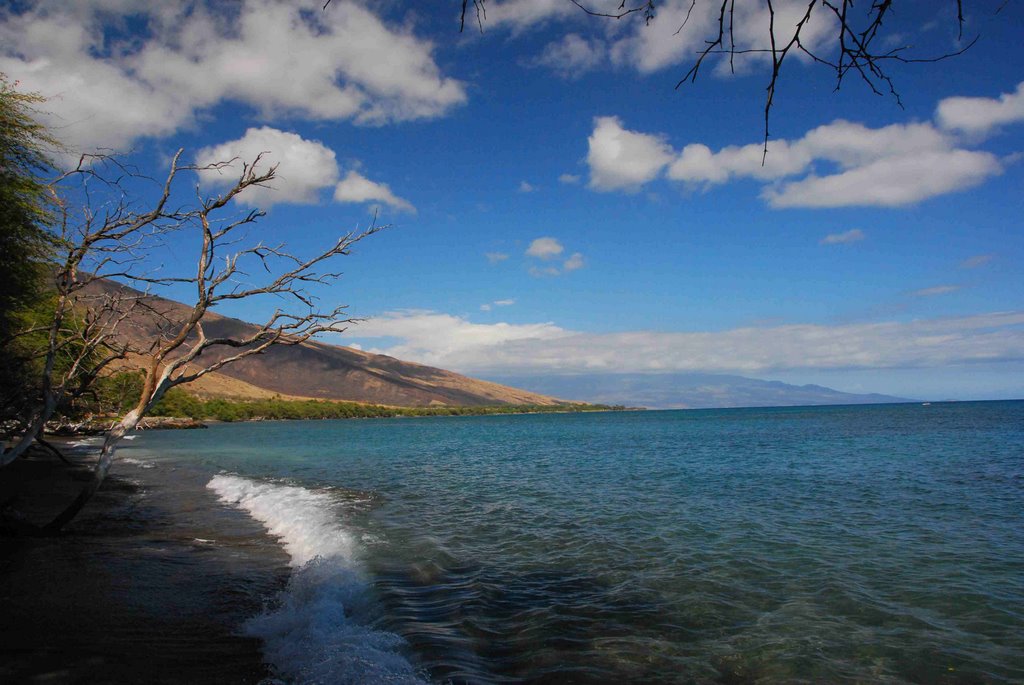 Olowalu Beach is a long, narrow beach with shallow offshore reef located on the road between Ma'alaea and Lahaina, right at the 14 mile road marker. It is a popular destination for sunbathing, swimming and snorkeling.
The reef protects the beach from ocean waves, making the area popular among families with small kids. The nearshore water may have poor visibilitybut the farther out you swim, the clearer it gets.  Fish and other marine creatures are also more abundant and varied as you swim further.
Apart from snorkeling, Olowalu Beach is also known for its tragic history. It is the site of the "Olowalu Massacre" where many native Hawaiians were killed in 1790. The massacre stemmed from the ire of Captain Simon Metcalfe, an American trader whose two ships were then moored off the Lahaina coastline. Metcalfe deviced a vengeful plan against native Hawaiians who he believed stole and tore one of his shore boats apart to salvage its nails and metal parts. Nails were a valued commodity for Hawaiians at the time.
After being tipped that the thieves were from Olowalu, the captain set sail for the site, moored his boat off shore and beckoned the natives to come out and trade for goods he had on board. When the Hawaiians were gathered alongside the vessel, he ordered his men to fire with cannons and muskets, killing over a hundred and injuring many.
Today, there is no trace of Olowalu's dark past and instead known for its quiet serenity, stunning sunsets and amazing snorkeling possibilities. Unfortunately, there are no facilities in this beach so come prepared.
Save