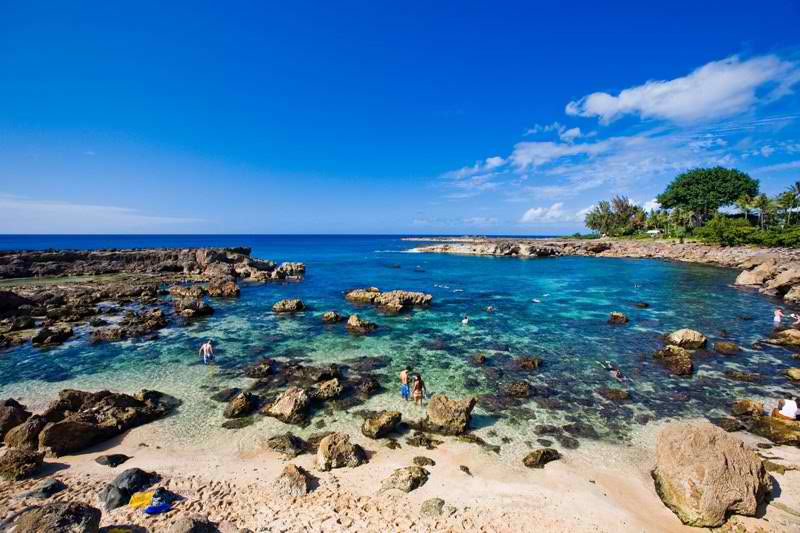 Shark's Cove is a lava rock beach located on the North Shore of Oahu in Hawaii. It's part of the 80-acre Pupukea Marine Life Conservation District, dedicated to conserving the unusual coral reef noteworthy because of its resistance to the impact of big winter waves. It features a reef teeming with a wide variety of marine life.
During winter (November to February), the cove is dangerous due to large waves that can reach to can reach 40-50 feet. During this period, the reef cannot even be seen because of the rough waters. From May to October, when the seas are generally calmer, the cove is excellent for snorkeling and diving.
As it name implies, there are some shark species, particularly the white tipped reef sharks, call this cove home. These sharks are generally not aggressive as long as they are not thratened. Turtles are also frequently seen in this cove.
Apart from the marine life, the cove is also known for its underwater caves and rock formations at the northeast point. However, these caverns must only be explored by experienced divers accompanied by a local expert. Most caves have little natural light, and if sediment is stirred up from swells, the result can be zero visibility and disorientation.
Another attractions are the large boulders on the far right of the cove which are said to be followers of Pele, the volcano goddess. As an honor, she gave them immortality by turning them to stone.
Rest rooms and showers are available at the Pupukea Beach Park. There are no lifeguards stationed at Shark's Cove. If you wish to go swimming here, it is a good idea to wear reef shoes because of the sharp coral reef that is everywhere in the cove. Also be advised that the ccean drops off to about 25 feet at the end of the reef so always take caution when venturing into the water.
Shark's Cove camn be reached via the Kamehameha Highway on Oahu's North Shore.