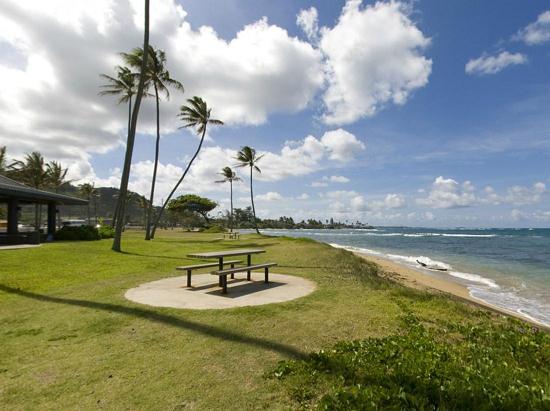 Hau'ula Beach Park is a nine-acre beach park located between Kokololio Beach Park and Aukai Beach Park at Hau'ula on Oahu's windward coast. It is a popular camping and picnicking site among local residents.
The name Hau'ula, which means "red hau" in the Hawaiian language, refers to the hau trees, a native Hibiscus tiliaceus variety, which was once abundant in the area. The trees are known for its summer blooms that change colors as the day progresses. They start with bright yellow blooms in the morning, which turn reddish gold by dusk, eventually falling off the tree at nighttime with dark crimson hue. The cycle is repeated the next morning. 
The beach is very narrow, only about 1,000 yards long. An offshore reef protects the beach. However, the shallow water and rocky bottom make the area unsafe for swimming. Snorkeling is possible along the edge of the reef when the ocean is calm. Also, a beginners' surf spot is located offshore at the northern end of the park.
Kamani and ironwood trees behind the beach provides shade and excellent spots for picnics. Camping is allowed with permits. Facilities include grassy lawn, picnic tables and barbeque grills. The park tend to be crowded during weekends.
To get there from Honolulu or Waikiki, take the H-1 Freeway West. Turn into the Wilson Tunnel located at Highway 83. The Highway 83 is located on the left side of the Kahekili Highway. Drive for another 17 miles, and watch out for the Hau'ula Beach Park to your right side.
Save