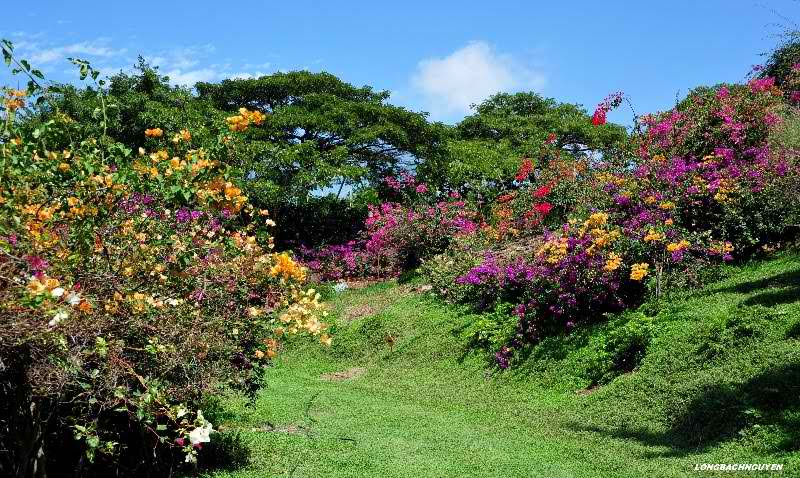 Pua Mau Place is a 45-acre arboretum and botanical garden located off Highway 270 at 10 Ala Kahua, Kawaihae, on the arid western slopes of the Kohala Mountain Range on the Kohala coast of the Big Island of Hawaii. The garden was established in 1974 by Dr. Virgil Place to prove that blooming (pua mau) woody plants and lush ornamental vegetation can thrive in such a dry environment with the help of a drip irrigation system.
The garden, which features a vast collection of continuously flowering tropical flowers, trees, and shrubs, aims to promote awareness of, and conduct research on, the uses of flowering plants in a Hawaiian arid environment for ornamental, agricultural, and bio-regional purposes. Every plant is marked and an information booklet is also available, a handy companion for visitors who'd like to take self-guided tours.
Apart from the beautifully landscaped oasis, the garden also offers spectacular views of both the ocean and the majestic mountains.
Other attractions are original sculptures scattered throughout the gardens, massive red lava boulders, a stone magic circle, a maze planted with over 200 varieties of hibiscus, and an aviary with about 150 peafowl and guineafowl.
Pua Mau Place is open everyday of the year, 9:00 am to 4:00 pm. Admission fees are $10 for Adults (18 to 64) and $8 for Seniors, Students (with ID) and Kama Aaina.