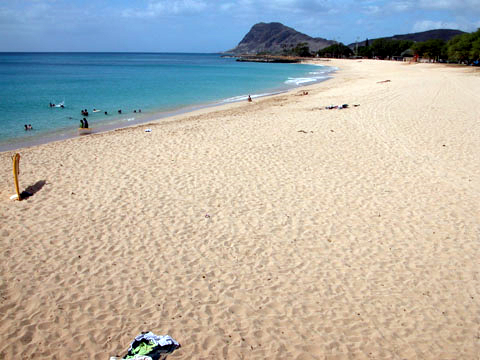 Nanakuli Beach Park, which means "to look at the knee" in Hawaiian, is a 40-acre park located at the west coast of Oahu, Hawaii. In February 1940, the people of Nanakuli petitioned Mayor Crane and the Board of Supervisors to rename the park Kalaniana'ole in honor of Prince Jonah Kuhio Kalaniana'ole, the beloved "Father of the Hawaiian Homesteads Act." The request was approved unanimously.
On March 26, 1940, the anniversary of Kuhio's birthday, a huge lu'au and a hukilau were held as part of the opening ceremony. During the 1970s, however, the name was changed again to Nanakuli Beach Park.
The beach park features a wide pocket of sand about 500 feet long and 125 feet wide, which lies between two limestone points. Fairly well protected from strong surf conditions during summer, the Nanakuli Beach Park is a popular destination for swimming and other water activities. The sandy beach is popular among canoe clubs which often use the beach for both practice and competition. Swimming is not recommended during winter.
Beach facilities include picnic areas, restrooms, showers, campsites (permits required) and phones. Lifeguards are on duty.
Nanakuli Beach Park is located at 89-269 Farrington Highway, Wai'anae, Hawaii. It is accessible via Bus route 40/ 40a/ 93.