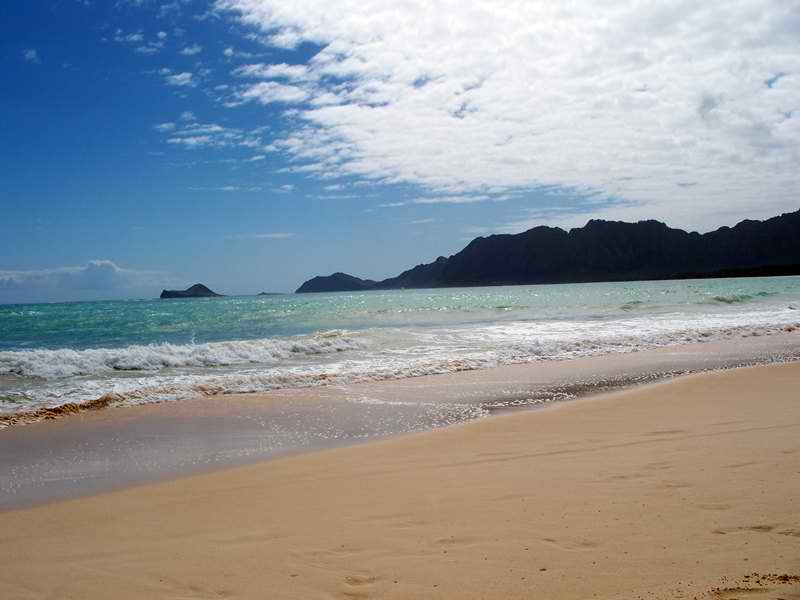 Bellows Field Beach Park is a picturesque beach adjacent to Bellows Field, a United States Air Force field in Waimanalo, Oahu in Hawaii. It was named after 2nd Lieutenant F. B. Bellows, who had been killed in an airplane accident.
The park is part of the Waimanalo Bay and is fronted by a long, wide beach with fine white sand and calm shallow waters especially during summer months. An offshore reef protects the beach from ocean swells, making it a popular destination for swimmers and people learning to body surf, body board, and surf.
Other popular activities is beachcombing and enjoying the spectacular views of Waimanalo Bay, sunbathing on the soft sand and picniking under the shade of the numerous ironwoods trees.
The waters may be teeming with an interesting array of marine life but may not be the best spot for snorkeling. Common in this area are the dreaded Portugese Man-o-War, a species of jellyfish usually blown to shore by prevailing trade winds. Be extremely cautious of Man-o-Wars and pay attention to posted warning signs. Also keep a close watch on children playing in the water as Man-o-War stings are extremely painful, and can be serious to life-threatening. In case someone got stung, immediately call the attention of  the lifeguards.
It was only on July 4, 1964, when forty-six acres of Bellows Field Air Force Station beachfront were turned over to the State for use by the public on weekends and national holidays. Facilities include picnic areas, restrooms, showers. Camping is allowed with permits from the City and County of Honolulu. Lifeguards are on duty during weekends and summers only.
Located between Inoa'ole and Waimanalo Streams, Bellows Field Beach Park is open to the public on weekends and on national holidays. Other prominent beaches in the area are Waimanalo Bay Beach Park and Waimanalo Beach Park.