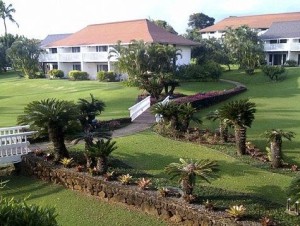 Address 2253 Poipu Road, Koloa, Kauai - Hawaii
Located on a lovely beachfront in Poipu,  Outrigger Kiahuna Plantation Resort sits on the sunniest side of the island with picture perfect vistas. The structure was inspired by Hawaii's 19th-century plantation architecture.
The relaxed and carefree atmosphere makes  Outrigger Kiahuna Plantation Resort a favorite among tourists. The magnificent lawns are decorated by swaying palms, shady monkey pod trees, and delicate plumeria blossoms, making the 30-acre setting a sight to behold. The Poipu Beach, which is one of the world's best beaches, boasts of a pristine stretch of sand and clear blue Pacific waters, perfect for swimming and snorkeling.
The Historic Koloa Town in Hawaii is just a few minutes away. Explore more of Kauai with a scenic drive west to Waimea, or east to Lihue, the Wailua River, Kapaa Town, and Hanalei on the north shore.
Aside from swimming, snorkeling and other water sports, guests can enjoy other activities like tennis in the private courts, sit down for a delicious meal in the chic atmosphere of Plantation Gardens, or enjoy a private family barbecue just outside your plush, split-level Poipu condo. The kids can have fun in the swim club – complete with a water slide.
Outrigger Kiahuna Plantation Resort has 212 private, two- and three-level walk-up condos with magnificent ocean and garden views, fully equipped kitchen in every unit, private lanai/balcony, alarm clock/radio, cable TV, complimentary high speed internet, direct-dial telephone/data port/voice mail, card key access to guest room, hairdryer, iron and board, bathtub/shower or shower only, daily maid service, in-room safe, breeze-cooled units, with ceiling fans, blackout drapes. Non-smoking rooms are also available.