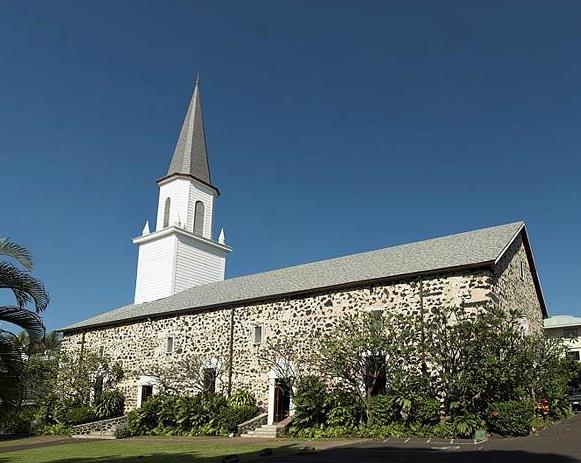 Built in the 1820s, Moku'aikaua Church in Kailua-Kona is considered as the first and oldest Christian church in Hawaii. It was added to the National Register of Historic Places listings on the island of Hawaii in 1978.
The first structure on the site was a small church made from Ohi'a wood and a thatched roof constructed by the people of Kailua-Kona to become the place of worship of the congregation founded by Asa and Lucy Goodale Thurston, among the first American Christian missionaries who came to the islands via the ship Thaddeus. The missionaries were given permission to teach Christianity to King Kamehameha II, and the Queen Regent Ka'ahumanu.
The site where the church sits, across the street from the Hulihe'e Palace, came from Royal Governor Kuakini. The name moku 'aikaua literally means "district acquired by war" in the Hawaiian language, which is believed to refer to the upland forest area where the wood used for construction was obtained.
After several fires, the present stone church was constructed, from about 1835 to 1837. It remains to be in use and is open to the public for tours. Ancient Hawaiian artifacts are displayed inside, including a scale model of the Thaddeus. The church is known for its steeple and ancient stone gate built around 1900.
Moku'aikaua Church is located at 75-5713 Ali'i Drive in Kailua-Kona, Big Island of Hawaii.