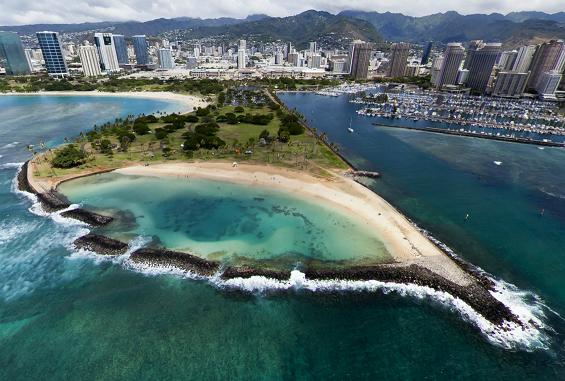 Aina Moana, more popularly known as Magic Island, is a man-made peninsula located at the east end of Ala Moana Beach Park in Oahu, Hawaii. Since its creation in the early 60s, Magic Island has been a favorite destination among locals and tourists for its white sand, crescent-shaped protected swimming lagoon and magnificent views of Diamond Head, Waikiki and Honolulu. Behind the beach are sprawling grassy areas, shady trees, picnic tables and trails for jogging, cycling and inline skating.
Named by its developers as Magic Island, the peninsula covers thirty acres of reclaimed shallow reef which was supposed to be part of a resort hotel complex that didn't push through. The reclaimed area was turned over to the State which converted it into a public park. In 1972,  the State officially renamed the peninsula Aina Moana, or "land from the sea," to recognize that the park is made from dredged coral fill. However, local residents still prefer calling it Magic Island.
Rock barriers protect the Magic Island beach from incoming waves, making the water safe and suitable for swimming. Breaks in the rocky seawall allow water to come in and refresh the swimming area. However, the ocean bottom on some parts of the lagoon is a bit rocky. Swimmers are also advised to stay away from the openings of the rock barrier because the current can be strong and dangerous in these spots.
Magic Island is also a popular venue for weddings, holiday celebrations, and special events such as 4th of July fireworks shows and the Honolulu Family Festival. Facilities include restrooms, picnic areas, benches, bike and running trails and lifeguards. It usually gets crowded during weekends and the parking fills up fast so come in early.
Ala Moana Beach Park and Magic Island is located at 1201 Ala Moana Boulevard,  between Waikiki and downtown Honolulu.