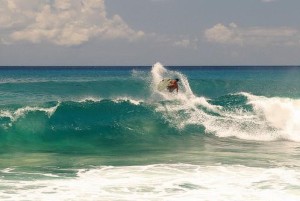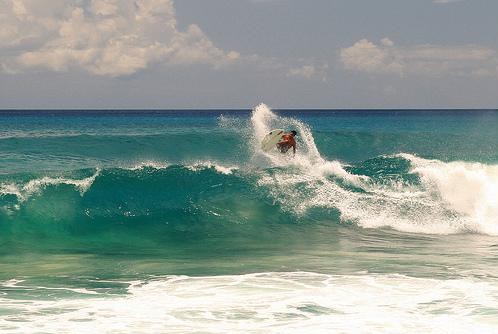 Yokohama Bay in the northernmost part of leeward Oahu is the best destination if you want to ride the waves without the crowd. Also known as Keawaula Beach or Puau Beach, Yokohama Bay is a secluded Hawaiian retreat for surfers, beachgoers, and nature lovers.  Easily accessible at Kaena Point in Waianaie Coast at the end of Farrington Highway, the bay  boasts crescent-shaped shore with fine white sand and a awesome view jagged pali cliffs left raw and unspoiled by development.
The clear blue waters is best for for snorkeling, diving, shore fishing, picnicking, shell collecting, swimming, sunbathing and other water activities. It is best to enjoy these activities during the summer when the ocean is calm.
The bay becomes a surfer's paradise during winter, when the surf goes up as high as 20-feet accompanied by strong currents and strong shore breaks. The wind can blow erratically and unpredictably at times.
Non-pro surfers are advised to stay on the shore and just watch the excitement of the surf and the surfers tackling the waves of Yokohama as the high winter swells are extremely dangerous.
Services and amenities: lifeguards and restrooms at the park entrance, no bus service, no facilities