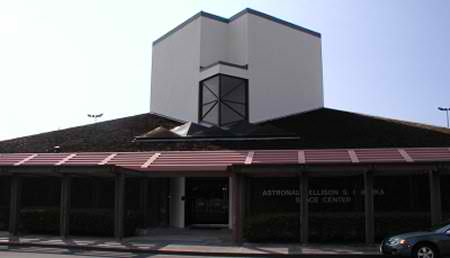 Onizuka Space Center, more formally known as the Astronaut Ellison S. Onizuka Space Center, is an astronomy museum located at the Kona International Airport in Kailua-Kona, Big Island of Hawaii. It was named after astronaut Ellison Onizuka, the first Hawaiian and Asian American to reach space.
Onizuka successfully flew into space in 1985 via the Space Shuttle Discovery and lost his life when the Space Shuttle Challenger exploded shortly after takeoff in 1986. The Onizuka Air Force Station in Sunnyvale, California, and the Onizuka Center for International Astronomy at the Mauna Kea Observatories, were also named in his honor.
The Onizuka Space Center opened to the public in 1991 featuring interactive and educational exhibits and videos about the history of manned space flight, physics and daily life in space. The 50-foot high, 4,000 square foot, triangular-shaped building was designed and constructed by the Hawaii Department of Transportation in coordination with the Onizuka family and the Onizuka Memorial Committee.
Attractions at the space center includes a real moon rock, space travel simulator, some of Onizuka's personal belongings, a gravity well, models of space shuttle missions, an interactive rocket-propulsion exhibit where visitors can launch their own miniature space shuttle, an Apollo 13 space suit and other space-related displays. There is also a gift shop selling a variety of space-related items. Proceeds from the shop go to support the operation of the space center.
The facility is open daily, 8:30 am to 4:30 pm, except Thanksgiving, Christmas Day and New Year's Day. Admission rates are $3 for Adults and $1 for children 12 years old and under.