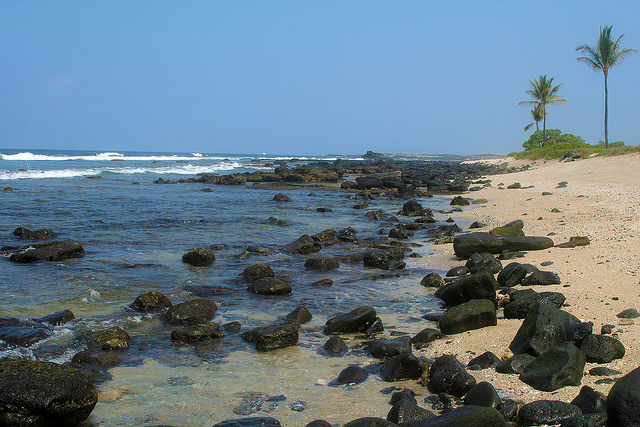 The Old Kona Airport State Recreation Area is a public park built on a former airport located just North of Kailua, Hawaii. The old airport was built during World War II and was eventually used by small planes for tourist flights. It was closed down in 1970 when the much larger Kona International Airport was completed. In 1976, the area was turned into a beach park while the old terminal building was converted into a public pavilion. The runway, thanks to some modification from a line marking paint machine, is now used as a parking lot.
The park features a one-mile-long rocky beach with small patches of sand, providing easy access to the ocean. An offshore surfing break known as Old Airport is popular with Kona surfers. The Old Kona Airport State Recreation Area also boasts of spectacular sunsets.
Located at the southern end of the beach is a sheltered inlet with tidal pools excellent for children. This area offers lots of swimming and snorkeling opportunities. Also located on this part of the park are grassy field used for baseball and soccer, the Kona Community Aquatic Center with two public pools, and the Kekuaokalani Gym.
Other facilities include tennis courts, children's playground, walking paths, landscaped gardens, grills and picnic tables, restrooms, and showers. Parking and use of any facilities are free.
At the northern end of the beach, is a small cove called Pawai Bay, used by snorkelers and divers as entry point to the ocean. A channel leads to deeper offshore waters rich with marine life.
To get to the Old Kona Airport State Recreation Area, take Highway 19 one mile north of Kona. Turn left on Makala Boulevard, just before Mile Marker #99. Go to the end of the road, turn right on Kuakini to the old runway.
Save