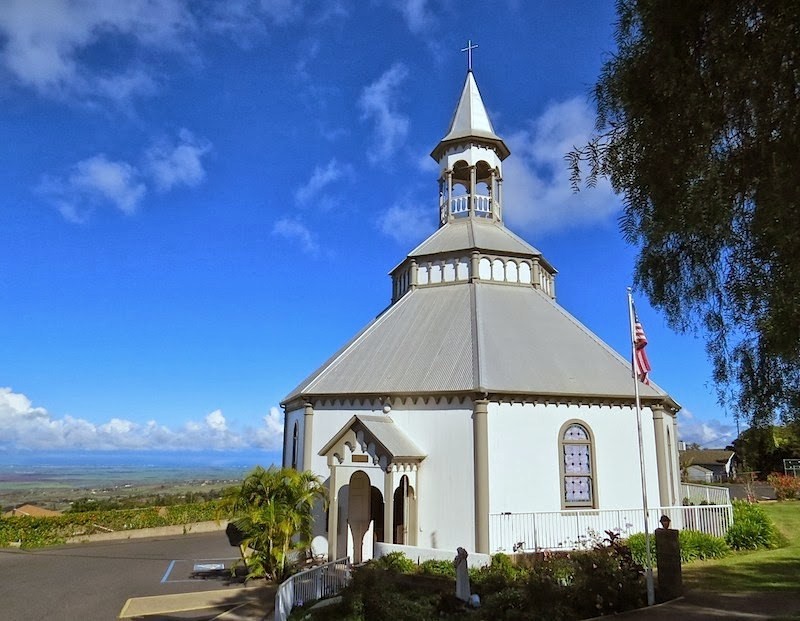 The Church of the Holy Ghost, also known as Holy Ghost Mission, is an octagonal Roman Catholic church building perched on a hill in Waiakoa in the Kula district of Maui, Hawaii. It was designed by Father James Beissel and built in 1894 by Portuguese workers and farmers who moved to Maui to work on the sugar cane plantations. The first mass was celebrated in it in 1895 and officially dedicated by Bishop Ropert Gulstan of Honolulu 1899.
The two-acre property on which the church stands was donated by Louis and Randal von Tempsky of Waiakoa while construction of the building was financed by weekly auctions of cattle by local ranchers.
The Church of the Holy Ghost is the only octagon-shaped church in Hawaii. The shape and architectural style were believed to be inspired by the design of ancient churches found along the coastlines of Portugal. It contains numerous Portuguese design elements including the ornate altar and Stations of the Cross written in Portuguese.
The altar and Stations of the Cross were commissioned by Father Beissel from the renowned Austrian sculptor, Ferdinand Stuflesser and were shipped in nine separate crates around the Cape of Good Hope to Hawaii. The pieces were then hauled by oxcart from Kahului Harbor to Waiakoa and reassembled by the faithful members of the parish. They are recognized now as examples of museum-quality ecclesiastical art of that time.
In 1983, the church was recognized as a historical state landmark and added to the National Register. The building underwent a major restoration in 1991.
Today, the Church of the Holy Ghost remains an active Roman Catholic congregation. It has also become a popular tourist attraction because of its beautiful architecture, historic past and the spectacular views of the Maui valley down below. It is also a favorite venue for weddings and noted for its delicious Portuguese sweetbread, baked fresh on the second Sunday of each month.
The Church of the Holy Ghost is located at 4300 Lower Kula Road in the Kula district of Maui, Hawaii.
Save