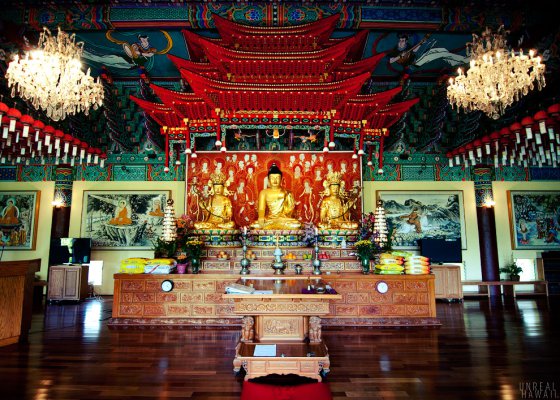 Mu-Ryang-Sa Buddhist Temple is a Korean Bhuddist temple located in Honolulu, Oahu, Hawaii. The name means "Broken Ridge" which refers to the temple's top ridge which appears to be broken.
The original structure, known as the "Dae Won Sa Temple," was constructed in 1975. It was destroyed by fire so construction of a new temple located in the Palolo Valley began in 1980. However, local residents complained that the roof of the temple's main hall exceeded city and county height limitations. A lawsuit ensued, legally forcing the height of the temple to be lowered. In 2001, the roof was lowered by over two meters to comply with a court order.
Situated on the mountainside of Palolo Valley, the temple boasts of magnificent mountain and ocean views. The complex features structures constructed in the true architectural style of historical Korean temples, including replicas of pagodas and statues dating to the 5th century.
Attractions include the spectacular Gate of the Four Heavenly Kings, a colorful gateway featuring the Four Heavenly Kings which guard over the four directions (North, South, East & West).
Enshrined at the center of the Main Hall is a statue of Shakyamuni Buddha. To his left is a statue of Ananda (intellect) and Mahakasyapa (wisdom) to his right. Above the the three figures is a stylized ceiling decorated with dragon and phoenix, which are common symbols of Chinese royalty.
At the center of the complex is the World Peace Pagoda, a replica of the historical Sokka-Tap Pagoda which was built during the Silla Dynasty (57 BC-935 AD) at Bulguksa Temple in eastern South Korea. On the base of the three-tiered World Peace Pagoda is a small metal urn, which contains "sari" or genuine relics of the historical Buddha.
There is also a Bell Tower which holds sound-producing objects including a bell, a drum, a hollow wooden fish, and gong, which are used for Bhuddist rituals. The tower's roof is painted with iconographic illustrations.
The Mu-Ryang-Sa Buddhist Temple is located at 2420 Halelaau Place, Palolo Valley, Honolulu. It is open to visitors for various activities such as meditation, yoga, Korean language classes, painting and dancing lessons, and Korean tea ceremony.
Photo credit: muryangsatemple.com
Save