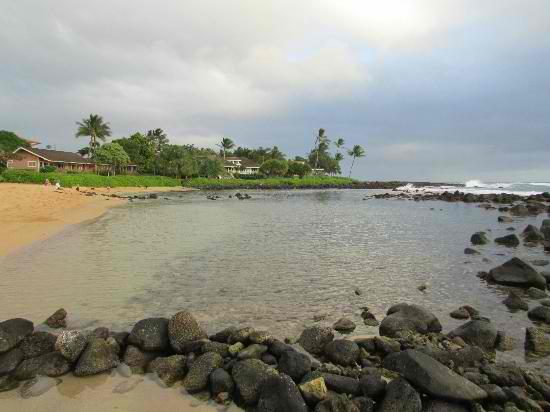 Ho'ona Beach, more popularly known as Baby Beach, is a small beach in the residential area of Poipu on the southern shore of Kauai in Hawaii. It features fine white sand and shallow and calm waters.
Apart from the fact that it is small, the beach's nickname was attributed to its shallow and calm water conditions. It has become a favorite destination among families with very young children where young ones can can safely venture into the waters without much worries.
A reef of lava rocks offshore keeps waves down to no more than a few inches high during most of the year but watch for large surf during winter months. Beyond the rocks is not a safe area due to high waves and strong currents.
While most beachcombers will find the shallow waters and short length of sand unattractive, parents find the beach an ideal spot to spend some quality time with their small children. Here, kids can't really wander off or get lost in a maze of sunbathers because this beach is not heavily visited.
Depending on the season, you may also see Hawaiian monk seals and turtles on this uncrowded beach.
There are no facilities and lifeguards at Baby Beach. Parking is also limited. For those looking for accommodations, there are rental cottages right across the street.
To get to baby Beach, turn onto Hoona Road from Lawai Road. Park on the edge of Hoona Road where it is wider and walk a very short path leading to the beach.