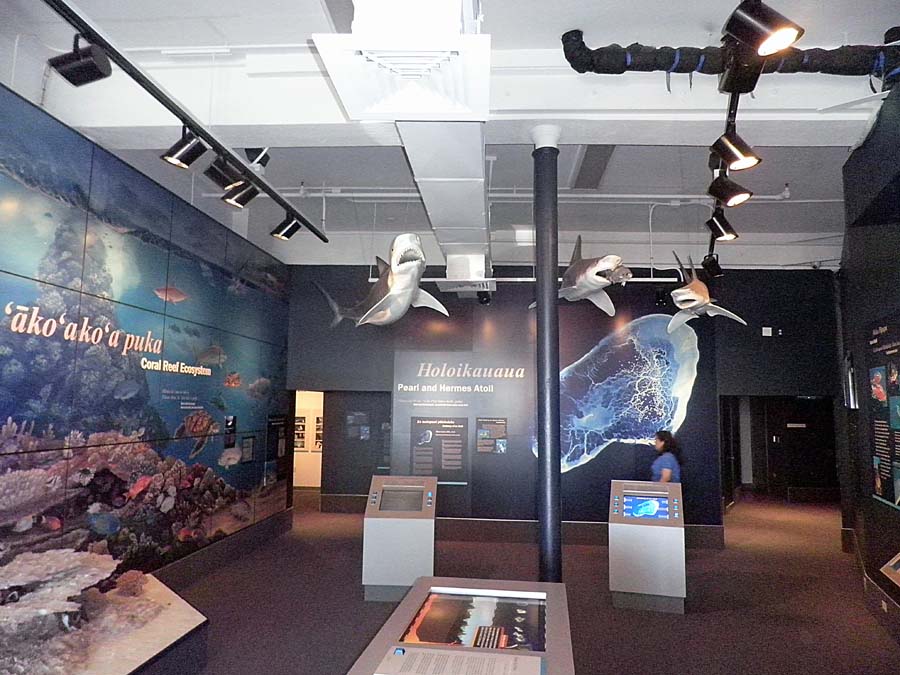 The Mokupāpapa Discovery Center is a 20,000-square-foot marine life facility located within the historic Koehnen's Ltd. Building in Hilo, Hawaii. The center features educational and interactive exhibits about the unique marine species that inhabit Northwestern Hawaiian Island reefs.
One of the center's most popular attractions is the 3,500-gallon (9,500 liters) salt-water aquarium which provides a glimpse of the vibrant and rich aquatic life from the Papahānaumokuākea Marine National Park and the remote atolls of the Northwestern Hawaiian Islands, providing locals and tourists information about the rare species of these secluded places. Apart from the aquarium, there are also lifesize models of wildlife endemic to the area.  
The center also includes a mock-up of the control panel of Hawaii Undersea Research Laboratory which allows visitors to use working robot arms.
Mokupāpapa Discovery Center is located at 76 Kamehameha Ave. (corner of Kamehameha and Waianuenue Ave.) in Hilo, Hawaii. Regular business hours are Tuesday through Saturday from 9:00 am to 4:00 pm.
Save