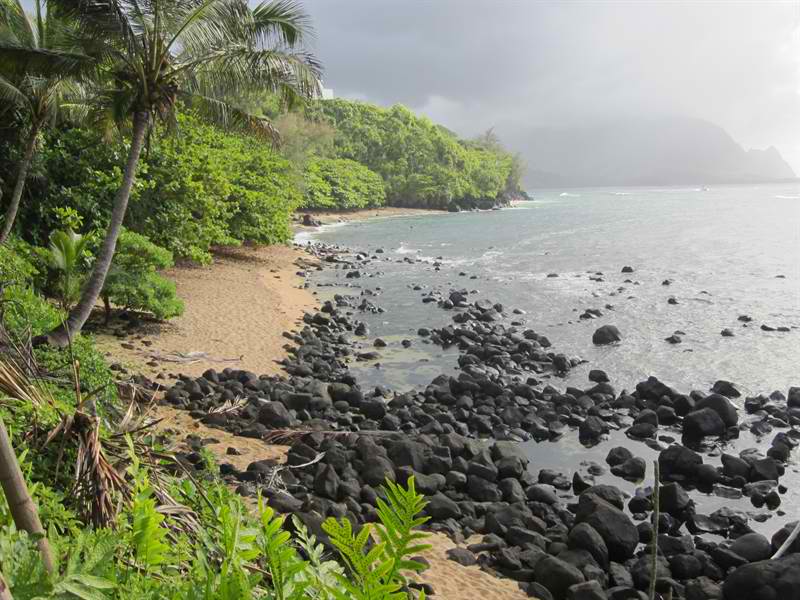 Pali Ke Kua Beach, and the adjacent Hideaways Beach, are two small beaches situated directly below the Pali Ke Kua condominiums in Princeville, Kauai, Hawaii. The two pocket beaches are usually mistaken as one but are actually separated by a narrow rocky point.
Pali Ke Kua Beach is very narrow and has very few sandy spots amidst large lava rocks. During high tide and wintertime, the sand disappears and only rocks and boulders are visible. During such ocean condition, swimming and other water activities are not advisable due to strong and dangerous surf. However, swimming and snorkeling are possible when the ocean is calm and tide is low.
Above the beach is a lookout offering spectacular vantage point of the ocean, mountains and beach below. The grassy area has a few benches and provides a great spot for picnics and sunset watching
Despite the limited swimming, the beach is still worthy of a visit if only for its sheer beauty. However, getting there requires some physical fitness and adventurous spirit. The beach can only be accessed via a steep, rocky trail. The trail is not easy to trek and can be very slippery after a heavy rain. Wear good shoes or sandals with excellent traction. This is also the only way out of the beach so pack lightly as you will have to lug everything up the trail after your visit. The seclusion makes the beach almost always deserted.
Pali Ke Kua Beach is located at the end of Ka Haku Rd., on dirt trail between parking lot and the Pali Ke Kua condominiums.
Save