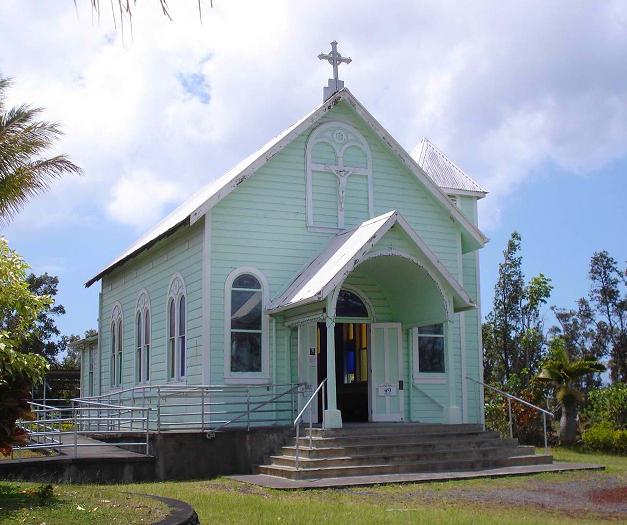 The Star of the Sea painted Church is a quaint catholic church built by Belgian missionary Father Everist Gielen in 1927-1928 to honor Father Damien Devester, or Saint Damien of Molokai, a Belgian priest who helped patients on the island of Molokai and later died from the disease himself. He was canonized on October 11, 2009, by Pope Benedict XVI and considered as the tenth person recognized as a saint by the Catholic Church to have lived, worked, and/or died in the United States.
The church, which features a Colonial Revival architectural style, is known for its colorful trompe l'oeil murals that tell the story of Father Damien. The upper section was painted by Father Everist while the lower panels and altar section were done by Athens, Georgia artist George Heidler. The text in both Latin and Hawaiian languages describe the scenes. The wall murals were completed in 1941. The church is listed on the National Register of Historic Places.
The Star of the Sea Painted Church used to be located in Kalapana, but was move to its present location after a lava flow came dangerously close to it in 1990. It is now located on Highway 130 (above Kaimu) between mile marker 19 and 20, and is open to the public without charge seven days a week from 9:00 AM to 4:00 PM.