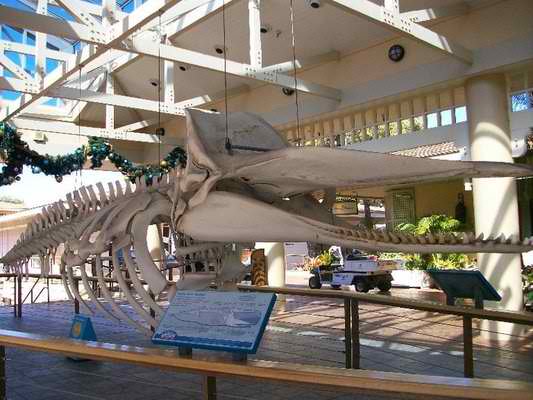 Whalers Village Museum is a quaint whaling museum located on the mezzanine level of the Whalers Village Shopping Center Ka'anapali Parkway, Lahaina West Maui. The museum features various displays about Lahaina's past as a thriving whaling town in 1825 to 1860.
Included in the exhibits are more than seventy species of whales including a 40-foot skeletal remains of a Sperm Whale at the entrance of the shopping center. The museum also presents an extensive collection of whaling implements such as harpoons, sea chests, sailor journals, and ship logs, said to be the largest in Hawaii.
To provide visitors a glimpse of how sailors live in dire conditions during whaling expeditions that could last from 3-5 years, the museum provides a scale model of a whaling ship showing the cramped living quarters of the 25-member whaling crew.
Also displayed are artifacts made from whale ivory such as a 19th-century birdcage made entirely from whale bones and other ornaments and tools constructed from the same materials. There is also a vast collection of scrimshaw or art work made by seafarers during downtime at sea. These pieces are usually engravings on whale bones or teeth, sculpted using very sharp knives and rubbed with ink to bring the designs to life.
The Whalers Village Museum is open daily from 10:00 a.m. to 6:00 p.m. Admission fees are $3 for adults,  $2 for seniors/students/military, and $1 for children below 18 years old. Children 6yrs and under are free.
How to get there: North of Lahaina on Hwy 30, exit a Kaanapali Pkwy and head west, after Leilanis, museum is on left.
Whalers Village Museum in Maui, Hawaii Photos