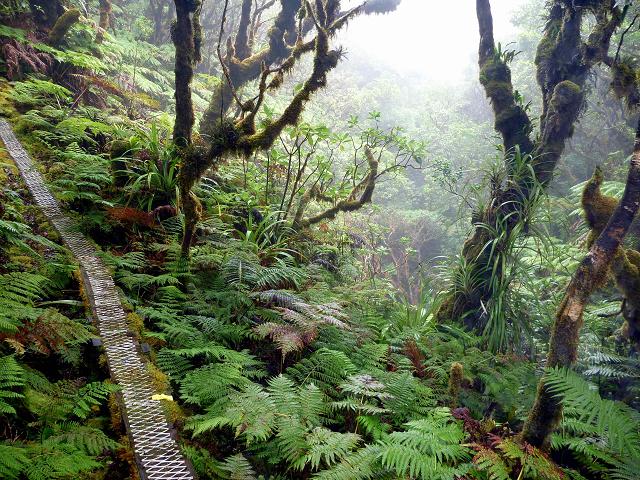 Kamakou Preserve is located within the primeval rainforest of Kamakou, the highest peak on the island of Molokai, at 4,961 feet (1,512 m). It is on the eastern side of the island and requires a four-wheel drive vehicle to reach.
The preserve is home to more than 250 rare native Hawaiian plant species, many of which exists only in this part of the world. Inside the forest is an other-worldly environment with tree branches covered in moss and the ground lush with ferns.
Aside from the dense exotic vegetation, Kamakou Preserve is also known for its rich wildlife which includes native and endangered bird species such as the Kawawahie and the Olomao. These two Hawaiian bird species are already declared extinct but recent sightings were reported in the Kamakou rainforest. Other animals that call the preserve home are the  Hawaiian owl Pueo, 'Apapane and the 'Amakihi.
Monthly hikes at Kamakou Preserve are organized by the The Nature Conservancy, a environmental organization which aims to preserve local plants, animals and ecosystems. Contact them via email at hike_mo[email protected] for more information about visiting this preserve.
The Kamakou Preserve hike is relatively easy thanks to the 3-mile boardwalk (AKA Pepeopae trail) that makes exploring the verdant rainforest a breeze. Aside from aiding hikers, the trail was installed to protect the rainforest's fragile vegetation.  At the end of the trails is a breathtaking overlook of Pelekunu Valley.
What is difficult is reaching the preserve. It requires a four-wheel drive vehicle and an experienced driver to navigate through 10-miles of steep, winding and rugged roads that lead to Kamakou. Coming with an experienced guide is also a must.
But the ordeal one will go through to reach the Kamakou Preserve is well worth it. This nature sanctuary is not called wao akua or "the realm of the gods" by ancient Hawaiians for nothing! Remaining pretty much the same today as it did a thousand years ago, this verdant oasis indeed looks like something only ethereal beings could have created.
Kamakou Preserve in Molokai, Hawaii Photos