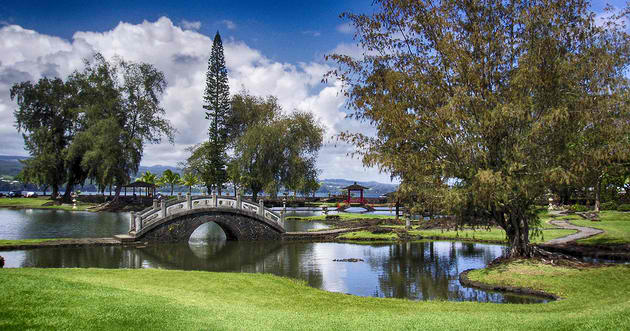 Liliuokalani Park and Gardens is a sprawling park with authentic Japanese gardens, located on Banyan Drive in Hilo on the island of Hawaii. It covers a total area of 30-acre (120,000 m2) and features Edo-style Japanese gardens that were built in the early 1900s. The beautiful gardens are said to be the largest of such kind outside Japan.
The park was named after Hawaii's last reigning monarch, Queen Liliuokalani, who donated the site as a tribute to the first Japanese immigrants who worked in the Hawaii Island sugar cane fields.
Aside from the well-manicured lawns and century-old trees, the gardens contain tranquil ponds, arching bridges, koi ponds, pagodas, statues, rock gardens, and a Japanese teahouse.
The Liliuokalani Park and Gardens has become a popular attraction in Hilo for both locals and tourists who are seeking peaceful and verdant surroundings.
Nearby the park is another popular attraction, the small island of Moku Ola  also known as Coconut Island. It is connected to the park by a footbridge. It is a good place for a picnic, and some limited swimming. The name Moku Ola literally means "island of life" in the Hawaiian language, since it was site of an ancient temple dedicated to healing. There is a stone tower on the east side of the island which is the remnant of the old footbridge which was destroyed by a tsunami. From Coconut Island one has a great view of Hilo Bayfront, Downtown Hilo, and the rest of Hilo Bay. To the east, you can see the massive breakwater protecting Hilo Bay.
Liliuokalani Park and Gardens Photo Gallery